Article Media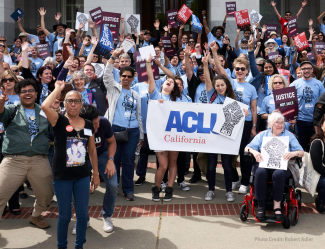 Since Trump's election, the ACLU has received thousands of donations, emails, calls, and offers of support.
All eyes are on America. And the ACLU will stay vigilant – every single day Trump is in office.
There are several different ways that you can help! We are currently seeking applicants for the following programs:
Apply to join your local chapter board. Chapters are the grassroots eyes and ears of the ACLU. They host events to build community and partnerships and work with staff on local advocacy issues.
 
We also need regular in-office administrative support to help with data entry, mailing materials, and online research. Contact Claire Machado at cmachado@aclunc.org to see if this is the right fit for you. To volunteer at the Fresno office, please contact Luis Ojeda at lojeda@aclunc.org.
These programs not for you? Here are a few other ways you can help: