Article Media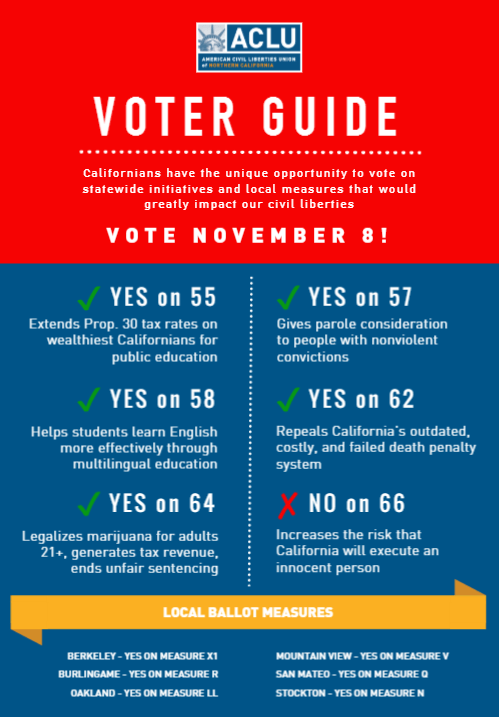 Apart from electing our future leaders, Californians have the unique opportunity to vote on statewide initiatives that would greatly impact our civil liberties and civil rights. Stand for justice, and cast your vote accordingly on the following California propositions and local measures.
YES on 55 — Tax extension
Maintains funding for public education by extending Prop. 30 tax rates on the wealthiest Californians
Prop. 55 is a needed extension of the temporary personal income tax enacted by Prop. 30 on the wealthiest Californians. Revenues will fund K-12 education, community colleges and, in certain years, budget reserves, debt payments and health care for people with low incomes.
Prop. 30 helped put California back on the road to budget stability. Had it not passed in 2012, California would have faced a whopping $6 billion in cuts in 2013. Prop. 55 extends the personal income tax implemented by Prop. 30 for another 12 years. It only impacts individuals who earn over $250,000, joint filers who earn over $500,000 and heads of household who earn over $340,000. The extension will raise an estimated $4 to $9 billion annually from 2019-2030, which the state will invest in schools, community colleges and health programs, as well as budget reserves and debt payments. Since Prop. 30 passed in 2012, California schools have avoided thousands of teacher layoffs, reopened libraries and improved access to college courses and the state has invested in health care and restored vital services to seniors and low-income communities. Prop. 55 will help California continue to protect schools, universities, health care and social services. Vote yes on 55.
YES on 57 — Juvenile justice
Authorizes parole consideration for people with nonviolent convictions for good behavior, education and rehabilitation
Prop. 57 is a smart approach to public safety. It focuses resources on rehabilitation for juveniles and for adult inmates, saving tens of millions of taxpayer dollars while preventing future crime.
Prop. 57 saves taxpayer dollars by reducing wasteful spending on prisons and focusing resources on rehabilitation. Evidence shows that the more inmates are rehabilitated, the less likely they are to re-offend. Prop. 57 allows parole consideration for people with nonviolent convictions who complete the full prison term for their primary offense, encouraging inmates to engage in rehabilitation programs. Prop. 57 allows inmates to earn credits for good behavior and education milestones and lose credits for bad behavior. Only policies certified by the Secretary of the Department of Corrections and Rehabilitation to protect and enhance public safety can be implemented. Evidence also shows that minors who remain under juvenile court supervision are less likely to commit new crimes. Critically, Prop. 57 will ensure that judges–not prosecutors–decide whether minors should be prosecuted as adults, emphasizing rehabilitation for minors in the juvenile system. Vote yes on 57.
YES on 58 — Bilingual education
Helps students learn English more effectively and allows for all students to learn a second language
Prop. 58 will restore bilingual students' option to participate in multilingual education programs.
Prop. 58 will repeal provisions of Prop. 227, the "English-only in school" initiative approved by California voters in 1998. The ACLU of Northern California opposed Prop. 227 because the "one size fits all" initiative disrupted students' academic progress, jeopardized their access to an equal education, and had an inequitable impact on high need students, particularly English language learners.
Now, almost two decades after Prop. 227 became law, it is clear that restricting educators' ability to use effective language instructional methods has held back California students. Research has confirmed that students who participate in multilingual programs achieve high levels of academic success, including attaining English and other language proficiency. Prop. 58 will enable teachers to use the most effective teaching methods available to help students learn English quickly. It will also encourage school districts to create programs so that native English speakers can become proficient in a second language. Prop. 58 helps empower the community because it gives families choices and allows them to have a voice in the language courses their school districts offer. The ACLU of Northern California supports Prop. 58 because it aligns with our mission to ensure equal access to education for all children, regardless of their socio-economic background, language, heritage or national origin. Vote yes on 58.
YES on 62 — Death penalty repeal
Repeals California's outdated, costly and failed death penalty system
In California, the death penalty system stopped working many years ago, but taxpayers continue to pay for it. No one has been executed in California in ten years. Since 1978, California taxpayers have paid $5 billion to execute 13 people. That's an average cost of more than $384 million per execution. We would save $150 million every year by ending this costly, failed system. That's money that could be spent on programs like drug treatment and mental health that actually improve communities and reduce violence.
Moreover, the death penalty perpetuates the same structural inequality seen in other parts of the criminal justice system–and with deadly results. Death sentences depend heavily on someone's race, location and ability to afford a good lawyer. California's death row population is roughly 36 percent African American—nearly six times the proportion of all African American Californians–and people of color make up nearly 67 percent of California's death row population. It is often said that you have a better chance of escaping a death sentence if you're guilty and rich than if you're innocent and poor. Vote yes on 62.
YES on 64 — Marijuana legalization
Legalizes marijuana for adults 21+, generates significant tax revenue and ends the state's devastating war on marijuana
Prop. 64 is a sensible approach to regulating marijuana for adult use in California. It will generate significant tax revenue for the state and bring an end to California's devastating war on marijuana, which devastatingly and disproportionately impacts people of color and low-income people.
Prop. 64 will control, tax and regulate marijuana for adult use in California. Prop. 64 directs the state to license and regulate businesses that grow, process, deliver, and sell marijuana. Cities are empowered to set local regulations, but cannot bar adults from growing, using, or transporting marijuana for personal use. Prop. 64 may generate up to $1 billion in tax revenues per year. Perhaps more important, Prop. 64 will remove significant criminal penalties for marijuana use, cultivation and sale by those aged 21 and older and, by doing so, also eliminate substantial collateral consequences that flow from arrests and criminal convictions, including barriers to employment, housing and opportunity. Even though marijuana possession was decriminalized in California in 2011, about 20,000 people have been arrested for a marijuana offense in each of the last five years. These arrests have fallen disproportionately on people of color and low-income people. Prop. 64 will move California to a smarter approach to marijuana. Vote yes on 64.
NO on 66 — Death penalty procedural changes
Increases the risk that California executes an innocent person
Prop. 66 is a costly and reckless experiment that will increase the risk that California executes an innocent person, will cost taxpayers millions and adds new layers of bureaucracy leading to more delay.
Prop. 66 is modeled after flawed laws from states like Texas where innocent people have been executed—people like Cameron Todd Willingham, who was wrongfully executed in 2004 despite new evidence of his innocence. Prop. 66 takes away legal safeguards that prevent unjust executions in California. Over 150 innocent people have been sentenced to death across the country, the majority of whom are Black and Latino.
Prop. 66 is so confusing and poorly written that we cannot know all of its unintended consequences. We do know this: it will increase taxpayer spending by tens of millions, according to a nonpartisan analysis. Prop. 66 forces the state to hire hundreds of unqualified attorneys to take on death penalty cases, leading to costly mistakes and more delay. Prop. 66 is a risky experiment that actually adds more layers of bureaucracy at our local courts. Vote NO on 66.
Local ballot measures
Berkeley
YES on Measure X1 — Public campaign finance
Big money dominates politics, even in Berkeley. Measure X1 will bring greater diversity into mayoral and council races by using public financing to ensure that all candidates with good ideas can run for office, not just the ones with access to wealth. Vote yes on Measure X1.
Burlingame
YES on Measure R — Rent stabilization
Measure R will make housing costs predictable and stable, freeing Burlingame residents from constant fear of losing their homes. Rents have skyrocketed in recent years and wages haven't kept pace. Measure R will limit rent increases and the ability of landlords to evict tenants without reason. Vote yes on Measure R.
Oakland
YES on Measure LL — Establishing an independent police commission
After more than a decade of federal oversight, the Oakland Police Department is still plagued by scandal. Oakland needs accountability and reform that only structural change can bring. Measure LL will establish an independent Police Commission led by Oakland residents and give them the power to investigate misconduct and recommend discipline. Vote yes on Measure LL.
Mountain View
YES on Measure V — Rent stabilization
Measure V will help make housing costs more predictable and stable, freeing seniors and others from the fear of losing their homes. For many hard working families, Measure V is the last hope to remain a part of the Mountain View community. Vote yes on Measure V.
San Mateo
YES on Measure Q — Rent stabilization
Measure Q makes housing costs predictable and stable for hardworking families in San Mateo. It will help keep valued teachers, nurses, & workers in town by limiting rent increases and halting unfair evictions. Vote yes on Measure Q.
Stockton
YES on Measure N — District voting
Measure N will give Stockton voters the power to choose City Council representatives from within their own communities. District voting would replace at-large voting, which has long been used as a discriminatory tactic to dilute the voting strength of people of color. Vote yes on Measure N.
Have you registered to vote?
Register by Monday, October 24 to be eligible to vote in the November election.
Make your voice count
Remember to vote on Tuesday, November 8. Polls open at 7:00 a.m. and close at 8:00 p.m.
Download this voter guide
Bring the ACLU of Northern California voter guide with you to ballot box.
>> Download a printable pdf to bring with you to the polls
Tell a friend