Article Media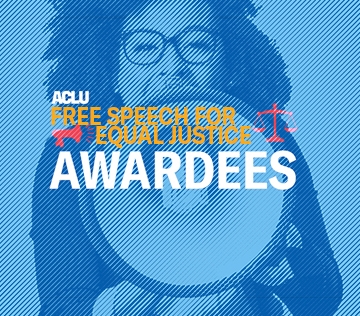 Nov. 28, 2017
The ACLU of Northern California is excited to announce the Free Speech for Equal Justice awardees at UC Berkeley. Through this one-time grant program, the ACLU of Northern California will distribute almost $17,000 among eleven student groups to host speakers who promote equal justice. The speakers include organizers, activists, poets, and academics covering topics on racial justice, immigrants rights, LGBTQ inclusion, and more.
Below is the full list of UC Berkeley awardees, the events they will host, and the grants that they will receive:
Awards
Organization/Speaker: The Berkeley Journal of African American Law and Policy, in conjunction with the Asian American Law Journal, La Raza Law Journal, Journal of Middle Eastern and Islamic Law, and the National Lawyers Guild - Berkeley Law Chapter, is hosting a symposium on racial justice, United Against White Supremacy.
Event: The symposium will be a space to examine and discuss how white supremacy operates in the daily lives of UC Berkeley students and the wider population. Through a series of panels, speakers will provide a forum to shift narratives around race and will consider how legal advocacy can be used to confront and dismantle white supremacy. Specific topics will include gentrification, affirmative action, immigration, and free speech.
---
Organization/Speaker: The Berkeley Journal of Gender, Law, & Justice has invited Ai-jen Poo to be the keynote speaker for its spring symposium, Home and Homecoming: Feminist Journeys.
Event: Ai-jen Poo is the executive director of the National Domestic Workers Alliance and co-director of Caring Across Generations. She is an organizer, thought leader, and innovator whose work spans family care, workers' rights, and social justice. Poo is a winner of the 2014 MacArthur Foundation "genius" grant, and in 2012, was listed as one of TIME Magazine's 100 Most Influential People.
---
Organization/Speaker: The Black Graduate Engineering and Science Students are inviting Professor Talithia Williams to campus to speak on how STEM fields can advance social justice and empower students of color.
Event: Dr. Talithia Williams is the Associate Dean for Research and Experiential Learning and Associate Professor of Mathematics at Harvey Mudd. Williams' research focuses on how statistics can be used to understand and quantify personal health information. As an educator, she works to make STEM more inclusive, accessible, and diverse for all identities. She has been awarded the Mathematical Association of America's Henry L. Alder Award for Distinguished Teaching by a Beginning College or University Mathematics Faculty Member.
---
Organization/Speaker: The Hermanos Unidos de UC Berkeley has invited Dr. Daniel Solorzano, Professor of Education at the UCLA Graduate School of Education and Information Studies, to campus to examine and identify how racism impacts and pervades conversations, institutions, and systems in everyday life.
Event: Dr. Daniel Solorzano has authored some of the seminal texts on race and education. He is the nation's foremost expert on racial microaggressions— verbal and non-verbal assaults directed toward people of color that are often carried out in subtle, automatic, or unconscious ways. Solorzano will speak on how different forms of oppression— from systemic racism to everyday comments, are used to marginalize people of color.
---
Organization/Speaker: CalSLAM is inviting nationally renowned spoken word poet and activist Arati Warrier, a South Asian American poet from Austin, TX, to perform on campus.
Event: The spoken word and slam poetry of Arati Warrier is a form of resistance to the mainstream forms of poetry, which historically have been limited to white male voices. Warrier's poetry is a form of protest, education, and resistance for marginalized communities whose voices are not heard or valued in the status quo. As a queer-identified woman of color whose family is affected by diaspora and immigration, she has a unique perspective and experience with issues related to these communities. Her work and poetry is relatable to a wide range of UC Berkeley students.
Proceeds from this event will go toward covering the costs of sending UC Berkeley to the international college poetry competition, College Union Poetry Slam Invitational (CUPSI), in order to represent diverse student voices and free speech on a grander scale.
---
Organization/Speaker: Students of Color in Public Policy and Thinking About Power and Privilege is hosting the 8th Annual Race and Policy Symposium, entitled "Reclaiming Our Time: The Importance of Identity in Policy Making."
Event: This year's symposium, organized by Students of Color in Public Policy in strong partnership with 11 other Goldman School of Public Policy student affinity groups with similar missions, will bring thoughtful, engaging, high-profile policy makers and advocates to speak on creating policy change that advances social justice. This week-long symposium provides a forum to discuss the implications of policy for people of color and to explore ways to engage issues of race in policymaking.
---
Organization/Speaker: Associated Students University of California (ASUC), Environment Council: The Office of Senator Nina Jhunjhnuwala will host a symposium on climate justice.
Event: The symposium will advocate for climate justice by facilitating discussions where students can voice their questions and thoughts on climate justice, as well as hosting Q & A sessions with a panel of knowledgeable speakers. There will also be workshops on environmentally conscious lifestyle choices such as urban planting and innovative disposal methods.
---
Organization/Speaker: A Graduate Student Assembly at the School of Social Welfare is hosting its 12th Annual Social Justice Symposium, a day-long event that features a keynote speaker and 25 workshops led by Bay Area community organizations.

Event: This year's symposium, entitled "Raising Voices, Driving Action," will strive to create a space of reflection, learning, community-building, and mobilization, while bridging the gap between UC Berkeley and its local communities. The event will focus on equal justice, collective action and anti-oppressive work. Invited speakers are still waiting to be confirmed.
---
Organization/Speaker: Generation Citizen has invited Mia Tu Mutch, a San Fracisco community organizer, Zakiya Harris, co-founder of Impact Hub Oakland and Hack The Hood, and Lea LaCroix, Coordinator of Community Outreach and Civic Engagement for the San Francisco Youth Commission, as speakers for their panel.
Event: The panel, entitled "Beyond the Election: What Can You(th) Do?" will seek to empower UC Berkeley students to get civically engaged. As activists, educators, and organizers, the speakers will equip the audience with advocacy tools to aid in local political action.
---
Organization/Speaker: Yemeni Student Association
Event: This donation will support Yemeni students at UC Berkeley.
---
Organization/Speaker: Rising Immigrant Scholars through Education
Event: This donation will support undocumented UC Berkeley students.
Learn more
ACLU Announces Free Speech for Equal Justice Awardees at UC Berkeley (Nov. 27, 2017)
ACLU Announces Grant for UC Berkeley Student Groups (Sep. 21, 2017)