Article Media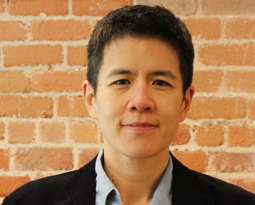 Ask the experts!
What led you down the path of becoming a civil rights lawyer?
I've had a long history with the ACLU. When I was in college at UC Berkeley I was an intern with the ACLU-NC Friedman Project, which at the time was led by Marcia Gallo. I remember sitting in on meetings with Marci, and with Alan Schlosser, Maggie Crosby, and Ann Brick and thinking how great the work they were doing was, and how I one day wanted to be one of them. Before I was a staff attorney for the national ACLU's LGBT and HIV Project, I worked as an attorney here at the ACLU-NC and at the ACLU of Southern California. So taking on this new role is really coming full circle for me.
You've had a long career as a civil rights lawyer—tell us what inspires you?
As a civil rights lawyer, I'm most inspired by the people we represent. Winning a case is great but there's nothing that I love more than sitting around a kitchen table with our clients, hearing their stories. So, whenever I'm feeling frustrated at some court ruling or by opposing counsel, I try to remember the folks we do this work for and with. So many people I've represented have risked so much to try to make change. I think of Constance McMillen, a client in Mississippi who wanted to take her girlfriend to the prom, but her school wouldn't let her. I also think of all the clients we helped in Arizona who were stopped by sheriffs and police officers solely because of the color of their skin.
What work are you most excited about doing here at the ACLU-NC?
I'm most excited about doing more work around racial justice and economic justice. Many of our California police departments have practices that are not all that different from the practices that led to the tragedy in Ferguson. And although California as a state is currently experiencing economic recovery, the recovery has exacerbated economic inequality. From our under-funded schools to courts to criminal defense and environment regulatory systems, many poor Californians are punished simply for being poor. This is especially true in the Central Valley, which is home to some of the poorest communities in the country.
Why is economic justice core to the ACLU-NC's mission?
Economic inequality threatens to undermine the civil liberties and civil rights progress that the ACLU and our sister organizations and advocates have fought so hard for, especially in our broken criminal justice system. The fact of the matter is that if you can't afford to pay for exorbitant court fees or for the bail set by the judge, your right to due process seems pretty hollow.
What lessons did you learn from being a civil rights lawyer in the Deep South?
Some might assume that working on civil rights in places like Alabama and Mississippi was dispiriting. In fact, it was quite the opposite. Everywhere I went, no matter how small the town, there were folks who were deeply committed to social justice, even at great personal risk. This was incredibly moving and I gained a deeper optimism about our ability to advocate for change. Now that I'm back in California, I'm reminded that some of the challenges that passionate activists are taking on in the Deep South are quite similar to the challenges activists are taking on in many parts of our state, especially in the Central Valley.
What are you reading?
I recently read Just Mercy by Bryan Stevenson, which is utterly captivating. I have long admired Bryan and the Equal Justice Initiative, the organization he founded in Montgomery, Alabama. The work he and his colleagues at EJI do on behalf of indigent criminal defendants and prisoners is truly awe-inspiring and I would encourage anyone interested in social justice to read his books.
Rumor has it that you're a foodie. What have you been cooking lately?
I love unwinding through cooking, especially baking. I'm passionate about my work, but I've learned that I work best when I take time to hike, bike, and bake. I'm really into breads right now, and just last week I made something Bon Appetit magazine calls babkallah—a delicious hybrid of babka and challah.
Christine P. Sun is our new Associate Director and Director of the Legal-Policy Department. Prior to joining the ACLU-NC, Christine was a Senior Staff Attorney at the national ACLU's Immigrants' Rights Project, where she was one of the attorneys who litigated the historic constitutional challenge to Arizona's notorious S.B. 1070 (the "show me your papers" law). Prior to that, she was Deputy Legal Director at the Southern Poverty Law Center in Montgomery, Alabama, directing economic justice and LGBT work, and Senior Counsel for the national ACLU's LGBT and HIV Project, where she led the ACLU's work on behalf of LGBT people in the Deep South. We're honored that she brings her distinguished legal advocacy experience and commitment to civil rights work to the ACLU-NC.
Christine also served as a law clerk for civil rights legend Federal Judge Robert L. Carter, one of the attorneys who argued Brown v. Board of Education, and as an associate at Keker & Van Nest in San Francisco.