Article Media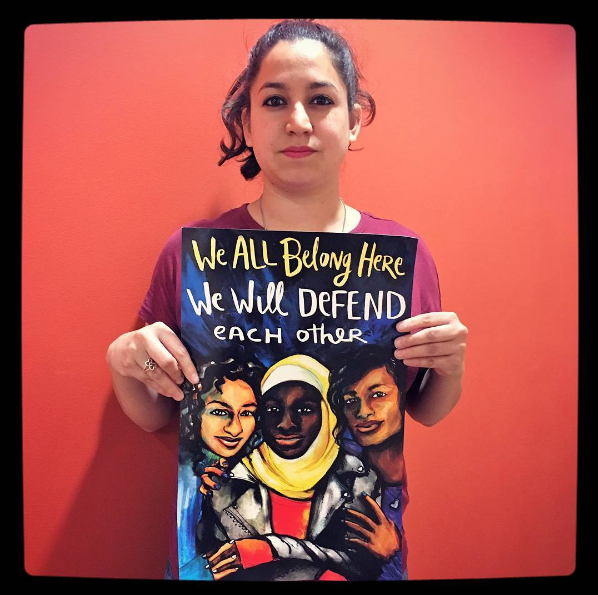 Last updated: March 2017
How to advance local sanctuary laws and policies in California to protect the rights of our immigrant and Muslim community members.
» Introduction
Among some of the most problematic directives in Trump's Executive Orders on immigration are:
Large-scale border and interior immigration enforcement, including the return of the failed Secure Communities program and the evisceration of enforcement priorities — anyone who could be prosecuted for violating the immigration laws can be targeted;
Mass incarceration of immigrants fighting their deportation cases without an opportunity for release, including many asylum-seekers and individuals who will go on to win their cases and have their right to remain in the United States recognized;
Deportation of individuals seeking protection at our borders to potentially dangerous and violent countries without an opportunity to apply for asylum;
A return to entanglement of local law enforcement in the business of immigration enforcement, and a threat to withdraw funding from cities and counties that refuse to go along with unconstitutional and un-American enforcement policies;
Ban on immigration, including refugee admissions and the denial of benefits for immigrants from certain Muslim-majority countries solely on the basis of their nationality and religion.
Trump's plans for massive immigration enforcement and deportations depend in large part on conscripting local law enforcement agencies' cooperation in a massive scale in a federal deportation dragnet. He will seek to deputize more local law enforcement agents as immigration agents, allowing them to question and make civil immigration-related arrests in the field, as well as in jails. Most significantly, he plans to require the cooperation of local law enforcement agencies to detain and transfer any arrested person, whether or not they have been criminally charged or convicted of any crime, to Immigration and Customs Enforcement (ICE). These practices will inevitably lead to policing based on racial profiling and widespread arrest practices that violate the Fourth Amendment and California law.
In addition, Trump's immigration plans could lead to the federal government seeking information about noncitizen residents who access public services and institutions. He has said that he will rescind existing federal immigration policies, which may include a long-standing ICE policy that the agency will not take enforcement actions at sensitive locations, such as schools, churches, or hospitals. Courthouses may also become a site of increased immigration enforcement, as it has been in the past. For example, ICE recently arrested a woman seeking domestic abuse protection at a courthouse.
Trump's plans to target Muslim community members for federal government surveillance and registration may also depend on local and state cooperation. For example, Mr. Trump has threatened to revive the National Security Entry-Exit System (NSEERS) program adopted after September 11, 2001. NSEERS required noncitizens born in predominantly Muslim countries to register with the federal government and submit to intrusive and abusive interviews. Under that program, federal immigration agents would add the names of people who failed to register to the National Crime Information Center's (NCIC) "wants and warrants" list, purporting to authorize any local law enforcement agency that encountered these people to arrest and transfer them to federal authorities.
» Purpose
In California, together we can stand up to Trump's unconstitutional and un-American plans.
We must act now. It's on all of us. We must get together and organize with our neighbors and other concerned residents of our communities to stand up and actively resist Trump's anti-immigrant, anti-Muslim agenda (check out this basic primer on organizing). Further, we must urge our local officials to take a stand and ensure that our public entities and institutions in California in no way are complicit with Trump's agenda.
First, we must demand municipal leaders make strong, clear public statements. Mayors from cities across the nation—including New York, Boston, Chicago, San Francisco, Philadelphia, and others—have sent a clear message in response to Trump's promises: we will protect our immigrant and Muslim community members. It matters for municipal leaders to declare that they will not acquiesce to mass deportations and discrimination of Muslim communities that would devastate their municipalities socially and economically. It is imperative that immigrant and Muslim community members be reassured that their local governments stand by them and will do everything in their power to protect them. Abstract statements or vague promises just do not cut it.
Second, we must enact strong sanctuary laws and policies county by county, city by city, police force by police force, school district by school district, university by university—as well as at the state level.
At the state level, there are several legislative efforts that can serve to resist Trump's agenda. In particular, the State of California should ensure that no state or local resources are diverted to fuel any attempt by the federal government to carry out mass deportations or a Muslim registry. Further, immigrants facing deportation must have qualified immigration lawyers to represent them, to ensure that they have a shot at a fair immigration court hearing. And to prevent avoidable deportations, public defenders must have the necessary resources and training to adequately represent their noncitizen clients and advise them about any possible immigration consequences in their cases.
Relatedly, as enforcement priorities have been eviscerated, and individuals who are charged but not convicted of crimes and even those who have not been charged but are believed to have committed "acts that constitute a chargeable criminal offense" are now priorities for enforcement, prosecutors must abide by California Penal Code Sections 1016.2-3. They must meaningfully consider the avoidance of adverse immigration consequences in the course of charging, plea bargaining, and sentencing of noncitizen individuals. Concurrently, there must be a serious effort for decriminalization at both the local and state levels. For example, the City of Los Angeles has recently moved to decriminalize street vending, an act that for too long had led to misdemeanor charges and convictions placing immigrants at risk of deportation.
This toolkit is designed to help you advocate in your community for laws and policies that ensure that your local institutions do not cooperate in an immigration dragnet and in the targeting of religious communities. You will find here model policies that can be adopted by County Boards of Supervisors, City Councils, Sheriff's Departments, Police Departments, and Public School Districts and Colleges and Universities. They are meant to serve as a guide for you as you work with your local officials to craft the best policies for your community.
Note: Federal law in this area can be complicated and the attached policies have been drafted to protect state and local interests and resources without running afoul of two federal statutes that place restrictions on state, local, or federal agencies and officers from limiting other federal, state, or local actors from sharing immigration status and citizenship information with federal immigration authorities. See 8 U.S.C. §§ 1373 and 1644.
The Constitution is on our side: Mr. Trump can't force state and local government agencies to enforce his deportation plans. See this legal memorandum regarding the legality of sanctuaries (and this guidance document from the New York Attorney General). It is also a matter of ensuring that local resources are used for local government. And, as a new study shows, crime is lower and the economy is stronger in sanctuary jurisdictions.
Ultimately, these local sanctuary laws and policies can reaffirm our rights as Californians to be free from unlawful discrimination and surveillance, and uphold the human dignity inherent in each and every one of us.
See also:
ILRC's local options toolkit
United We Dream's sanctuary toolkit
» County authorities: Boards of supervisors & sheriffs
In California, counties are led by boards of supervisors. These are the county legislatures that have the authority to pass county budgets and enact countywide laws and policies.
Sheriff's departments, usually elected by the people of the county, are the law enforcement agency of the county, and generally have arrest and criminal law enforcement authority as well as jail authority. It is here where the most collaboration with immigration enforcement can take place. Local law enforcement is not required to cooperate with federal immigration enforcement. In fact, they have no authority under California law to make arrests for civil immigration purposes (i.e. deportation purposes). See Cal. Penal Code § 836.
Further, detaining people to question them about immigration status or to enforce civil immigration law may violate the Fourth Amendment under certain circumstances. Attempts by the federal government to require local law enforcement to cooperate with federal immigration enforcement as a condition of receipt of funds may violate the Tenth Amendment of the U.S. Constitution.
Advocacy: Board of Supervisors
Demand that your county's board of supervisors adopt an ordinance that provides strong prohibitions against County cooperation with federal immigration authorities. Such an ordinance should also preclude any county participation in any federal "Muslim registry" type program.
A county ordinance should include provisions addressing the following:
1. Protection of Sensitive Information
No county agency, department, officer, employee, or agent shall provide non-publicly available information about any individual to any entity or official for purposes not directly related to administering a program under the County's jurisdiction except where expressly required by law or court order.
Nothing in this ordinance shall prevent any County department, agency, commission, officer, employee, or agent from responding to a request for assistance from victims and witnesses of certain qualifying crimes to obtain temporary immigration benefits (See 8 U.S.C. § 1101(a)(15)(U), 8 U.S.C. § 1101(a)(15)(T)).
Restriction on Use of County Law Enforcement Resources to Enforce Federal Immigration Laws or Religion-Based Registration Requirements:
No County resources, facilities, property, equipment, or personnel will be used for the purposes of: immigration enforcement; and enforcement of any federal program requiring registration of individuals on the basis of race, gender, sexual orientation, religion, or national or ethnic origin.
Notwithstanding the above, and consistent with Sections 1373 and 1644 of Title 8 of the United States Code, this section neither requires nor prohibits any entity or official from maintaining or exchanging information regarding the immigration status of any individual or sending or receiving information regarding the citizenship or immigration status of any individual with any federal, state, or local government entity. This Ordinance does not alter any existing confidentiality policies of the County.
No County departments, agencies, commissions, officers, employees, and agents shall make any databases they maintain available to federal authorities for the purpose of investigating, enforcing, or assisting in the investigation or enforcement of immigration law or for enforcement of any federal program requiring registration of individuals on the basis of race, gender, sexual orientation, religion, immigration status, or national or ethnic origin.
Nothing in this Chapter shall prevent County departments, agencies, commissions, officers, employees, and agents from responding to a lawful subpoena.
2. Public Record
Any county department, agency, commission, officer, employee, or agent that receives a request from federal immigration authorities to use county moneys, facilities, property, equipment, personnel, or databases, or to receive non-publicly available information about any individual, shall document the request in writing.
The document required by Section VI(A) shall be considered a public record pursuant to the California Public Records Act.
3. Transmission to County Employees
The Executive Officer of the Board of Supervisors shall send copies of this ordinance, including any future amendments thereto that may be made, to every department, agency and commission of the County of Los Angeles.
Each appointing officer of the County of Los Angeles shall inform all officers, employees, or personnel of the prohibitions and duties in this ordinance, and that those who fail to comply with the prohibitions of the ordinance shall be subject to appropriate disciplinary action.
Each County employee shall be given a written directive with instructions for implementing the provisions of this ordinance.
4. Enforcement and Oversight
The [OVERSIGHT BODY] shall accept and review complaints from any entity or individual regarding violations of this Ordinance.
The [OVERSIGHT BODY] shall produce a public report every 90 days regarding complaints received, responses to complaints by County departments, agencies, commissions and employees, and [OVERSIGHT BODY's] efforts to investigate and resolve such complaints.
5. County Undertaking Limited to Promotion of General Welfare
In undertaking the adoption and enforcement of this Chapter, the County is assuming an undertaking only to promote the general welfare. This Chapter is not intended to create any new rights for breach of which the County is liable in money damages to any person who claims that such breach proximately caused injury. This section shall not be construed to limit or proscribe any other existing rights or remedies possessed by such person.
6. Severability
If any part of this ordinance, or the application thereof, is held to be invalid, the remainder of this ordinance shall not be affected thereby, and this ordinance shall otherwise continue in full force and effect. To this end, the provisions of this ordinance, and each of them, are severable.
See a proposed county ordinance for the Los Angeles County Board of Supervisors.
Advocacy: Sheriff's department
Demand that your sheriff's department not cooperate with immigration enforcement and oppose any registry based on religious identity or national origin. Your sheriff's department should leave immigration enforcement to federal immigration authorities and focus instead on public trust and safety.
It is important to advocate that sheriff's departments:
Draw a bright line between federal immigration enforcement and local law enforcement, including prohibiting the use of financial or material resources, or personnel, to investigate or assist in the enforcement of federal immigration law.
Do not arrest or detain anyone for civil immigration violations, including pursuant to immigration detainer requests from ICE, ICE administrative arrest warrants, and field arrests.
Cease engaging with ICE in any joint operations, and refuse to permit any collateral arrests for immigration enforcement purposes in connection with local law enforcement operations, or operations in which local law enforcement is associated.
End ICE's access to people in the jail for purposes of carrying out deportation and removal operations. This includes not allowing ICE into the jail for purposes of interviewing people about their removability and not allowing ICE to use LASD's computers or equipment. Require ICE to produce a criminal warrant prior to providing ICE access to county facilities.
Decline ICE requests to notify ICE of release dates of persons in local custody and requests to transfer individuals to ICE custody.
Do not provide information about or otherwise investigate the immigration status of any person, unless required by law.
Oppose any list or registry based on religious identity or national origin, and commit to not participate in the creation or enforcement of any such list or registry.
Find a sample advocacy letter sent to a Sheriff's Department
» City authorities: Mayors, city councils, police chiefs
Mayors (or city managers) and city councils are generally the governing bodies for the majority of cities and municipalities in California. Police departments are generally accountable to these governing bodies, as they usually appoint police chiefs and have authority to direct police department policies.
Advocacy: Mayor and/or city council
Municipalities must pass concrete, practical policies to provide their immigrant and Muslim community members the maximum protection under the law. Generally, these ordinances are similar to the model county ordinance above but more streamlined.
Here is a sample proposed ordinance for the City of Los Angeles.
Many cities have alreay passed ordinances and resolutions: San Francisco; Santa Ana; Seattle; New York; Oakland; Pomona; Chicago; etc.
Advocacy: Police chief
Similar to sheriff's department policies, demand that your local police department not engage in immigration enforcement and focus instead on public trust and safety.
For example, Santa Monica Police Department Chief Jacqueline Seabrooks has explained that SMPD does not enforce immigration violations to encourage undocumented community members who are crime victims or witnesses to feel more at ease when coming forward to report occurrences of crime to the police. By not enforcing immigration laws, SMPD encourages willing participation in our community safety efforts by those who might not otherwise come forward for fear of having to disclose their immigration status and risk deportation.
It is important to advocate that police departments:
Adopt policies that police departments will not inquire as to a person's immigration status in the field, as well as in the jail setting.
LAPD Chief Beck, for example, has said his department would not change its policy, Special Order 40, which was adopted in 1979 and bars LAPD officers from stopping people based solely on their suspected immigration status. This policy, however, does not go far enough. Here is our proposed policy for the LAPD.
Adopt policies that ensure that in jail settings, police departments will not detain anyone on immigration detainers or civil immigration warrants, which would violate state and federal law, without a judicial warrant.
Adopt policies that police departments will not notify ICE of release dates or transfer anyone in their custody to ICE; and
Adopt policies that police departments will not provide ICE access to jail facilities to conduct interviews of inmates.
» Schools: School districts, colleges, and universities
There has been a significant increase in reported incidents of fear, concern, and hateful actions, including racial slurs, name calling, and intimidation of students in California and across the country.
We know, however, that California is and must be a beacon of diversity and inclusion for all students. Foremost among our rights is the fundamental right to education guaranteed by the California Constitution, and the right to equal educational opportunity enshrined in the California and United States constitutions. Long-standing federal and state civil rights statutes additionally affirm that every student in our state must be provided with an educational environment that is safe and welcoming regardless of the student's race, ethnicity, color, national origin, religion, age, gender, gender identity, sexual orientation, genetic information, or disability. Here is a Know Your Rights for immigrant students.
In response to student and parent organizing, school districts and colleges and universities can set certain policies to protect immigrant and Muslim students from deportation and the proposed Muslim registry. See this example of an ordinary citizen who organized to have the school district become a sanctuary safe haven for immigrant students.
Many school districts have already begun to take additional measures to protect their students. For example, the Los Angeles Unified School District is opening additional centers to direct parents to social services and legal help in light of the election. In San Francisco, an automated voice mail went out to every public school parent: "We are committed to providing a safe space for learning for each and every one of our students, including recent immigrants regardless of immigration status. We will continue to uphold San Francisco's sanctuary city for all immigrants." This message, along with a letter, was sent in English, Spanish, Chinese, Arabic, Vietnamese and Tagalog to students and families.
Also see here the California State Superintendent of Public Instruction Tom Torlakson's statement urging K-12 public schools to protect immigrant students.
It is important to advocate that school districts or colleges and universities:
Declare your schools as sanctuary "safe zones" by adopting policies not to assist in enforcement of federal immigration law.
Adopt and implement written policies that prohibit any communications with federal agencies or officials and refuse all voluntary information-sharing with federal or immigration agents to the fullest extent possible under the law.
Direct districts and colleges and universities to adopt and implement written policies that safeguard the privacy of all student records and allow district staff to share student information with federal law enforcement agencies only in response to a court order enforcing a subpoena. Such policies should clearly describe the process through which school staff address informal requests or administrative subpoenas absent a court order.
Adopt and implement policies that prohibit staff, campus security, or campus police from collecting or divulging any information regarding immigration status or country of birth of any student or their family members, including, but not limited to, birth certificates, social security numbers, or passports.
As with any law enforcement agency, require federal or immigration agents seeking information or access to a school site to have a warrant signed by a federal or state judge.
Send a strong message to staff, students, and families affirming values of diversity and inclusion, and making clear that unlawful discrimination against students will not be tolerated.
Take measures to ensure that staff, students, and families understand that all students are guaranteed equal access to school, regardless of their or their families' immigration status.
Establish a space where staff or partners with expertise in immigrant and undocumented populations can serve as resources for impacted students and their families.
Ensure that resources are distributed to students, educating them about their right to a safe and inclusive educational environment.
Create partnerships with community-based organizations and legal services organizations who provide resources for families regarding immigration issues.
Take prompt action to ensure accountability and justice through restorative justice programs and other approaches that focus on repairing the harm caused to the victim and the wider community.
Require focused anti-harassment trainings for staff and similar programming for students.
Provide training to teachers, administrators, and staff on protocols to follow when federal or immigration agents attempt to obtain information or enter the school site.
Commit to compile and publicly report data on every incident of bullying, harassment, or other discrimination to raise public awareness of this problem and the importance of devoting resources to address it.
​For a comprehensive resource on the sanctuary schools movement, go here. And here is a resource regarding legal issues related to schools and undocumented immigrants.
Advocacy: School districts
Under federal and state law, school districts have an affirmative duty to protect students from discrimination and harassment whether perpetrated by district employees or by students. Both the United States and California Constitutions guarantee students equal protection under the law and free expression of religious faith.
Demand safe schools from your School Board and Superintendent.
School Board: Every school district in California is governed by a board of several elected individuals, commonly referred to as the "school board." The School Board has exclusive authority to adopt rules and policies, which are called "board policies," that govern school employees and students. In addition to board policies, school boards can also adopt resolutions, which typically include two sections. The first section describes the history and facts behind the issue giving rise to the resolution. The second section sets forth the district's proposed course of action. In some circumstances, a resolution alone can create actual policy change. More often, however, school boards should supplement the resolution with board policies that establish concrete guidelines about what the resolution requires or prohibits.
Superintendent: Local school boards elect their district's superintendent, who serves as the school district's chief executive officer. Some of the Superintendent's duties include preparing budgets for the school board and developing and implementing the "local control and accountability plan." The Superintendent is also often responsible for implementing board policies through "administrative regulations." Further, many school boards' bylaws require that the Superintendent identify and communicate to the board issues that affect the community and suggest new policies or revise old policies. Often, the Superintendent can be an important ally because many school boards rely on their superintendent's recommendations.
Ask your school board to adopt a resolution and board policies that meaningfully protect vulnerable students and their families. Use the ACLU of California's model resolution and the following board policies as a starting point for your advocacy.
Several school districts in California have already adopted strong resolutions, including Culver City Unified School District, Los Angeles Unified School District, and Sacramento City Unified School District.
If you are unsure how to approach your school board, check out our Parents' Guide to School Board Advocacy in California, which explains how to connect with your district's school board members through letter, phone call, and public comment at school board meetings. You can also start a petition (find a sample petition here).
Additional resources include:
Our ACLU of California letter to superintendents throughout California that provides recommendations for superintendents to implement policies immediately to create a safe, inclusive, and equitable educational environment for all students in our schools.
A toolkit for advocates for undocumented youth and unaccompanied and refugee children currently living in the United States.
Advocacy: Colleges & universities
Similar to K-12 schools, demand sanctuary college or university campuses.
As with schools, start a petition for colleges or universities to adopt certain policies and take concrete actions, like those mentioned in the introduction section above (find a sample petition here for UCLA).
Here are sample policies that we passed at California State Universities and the University of California, and here is a joint letter from the University of California, California State Universities, and the California Community Colleges in support of a safe and inclusive campus.
Pitzer College also released a strong letter in support of its students.
Additionally, here is another resource for sanctuary college and university campuses. And here is a toolkit from United We Dream to help undocumented students and educator allies work with their institutions to increase the resources and support systems available to undocumented students at their colleges or universities.