Article Media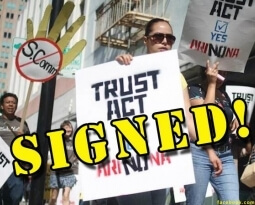 Last year, Gov. Jerry Brown signed two pieces of key legislation for immigrants' rights:
The TRUST Act (AB 4) creates a clear minimum standard for when local law enforcement must share fingerprints with immigration authorities. This practice often leads to the detention of immigrants in local jails solely based on immigration status. This undermines due process and has resulted in decreased trust between immigrant communities and law enforcement. The TRUST Act will make all Calfiornians safer. Learn more.
The Safe and Responsible Driver Act (AB 60) will come into effect in January 2015. All California residents who learn the rules of the road and pass a driving test will be eligible to obtain a driver's license regardless of immigration status. The Safe and Responsible Driver Act is an important step forward for over one million undocumented drivers who live in California. This new law is a practical and long-overdue step that improves road safety for all Californians. Learn more.
Know Your Rights Workshop: TRUST Act and AB60 Implementation
Presented by ACLU of Northern California Organizer, Stephanie Kamey.
For more info about the event, contact Stephanie at (559) 475-4323.
Location:
St. Anthony Mary Claret Catholic Church
2494 S Chestnut Ave.
93725 Fresno, CA