Article Media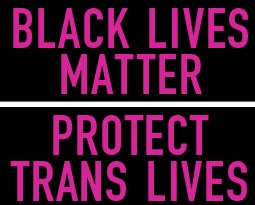 Update: Pre-registration is now closed.
Pride in protest!
March with the ACLU at one of the largest LGBT Pride Parades in the world, the San Francisco Pride Parade. We hope to be celebrating a Supreme Court victory on same-sex marriage, but regardless, our work is by no means done. The LGBTQ movement has always been about more than marriage.
Join us in solidarity with movements around the country to affirm that Black Lives Matter and that we must fight to Protect Trans Lives.
It's time to remind our own communities that the struggle for LGBTQ rights, dignity, and survival continues because no one is truly equal until we all are.
You can still march with ACLU
Pre-registration is now closed, but folks can still join us on Sunday:
Meet at 11 a.m. on Main St. (between Mission St. & Market St.) in downtown San Francisco. Any last-minute details will be sent via email prior to the event.
For up-to-the minute updates RSVP on Facebook »