Article Media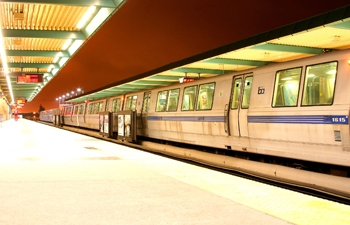 Hashtag: #HellaPrivacy
As a subway, BART is supposed to serve and represent all the people who use it. That's why we will be at the BART Board's next meeting – to demand that they vote for an ordinance that gives people a seat at the table when BART considers invasive new surveillance technology. Join us this Thursday, Sep. 13 at 9am at in Oakland at 2040 Webster Street, Third Floor. Read the ACLU's letter.
In the wake of the tragic murder of Nia Wilson, BART dropped a multi-million dollar security dragnet proposal with only three days' notice.
The Bay Area responded with hours of passionate public testimony, leading BART to reject proposals that threatened the safety of riders, especially immigrants and people of color. In the end, the Board listened to the community and a civil rights and racial justice coalition, and promised to hold a vote on an ordinance that gives people oversight over new surveillance technology.
The ordinance will require transparency and accountability when BART wants to buy and use technology like cameras, license plate readers, and face surveillance. It will make sure there can be no mass surveillance proposals on three days' notice ever again, and that the community will get a say on what security measure we want - and which we don't want.
But we need you there to make sure it is passed: (1) as an enforceable ordinance (not a policy) and (2) without a dangerous exception that allows BART agencies to test invasive new technology without the necessary transparency and safeguards to prevent harm to riders.
Read our letter to the Board discussing this legislation and our recommendations.
Passing this law would give people the information and time they need to organize against technology that poses a threat to rider safety. Legislation like this ensures that BART riders have a seat at the table. It empowers riders to speak up if BART tries to purchase threatening new technology, such as face surveillance.
Public safety in the digital age requires transparency, accountability, and oversight over surveillance technology. Please come and help us keep BART safe for everyone.
Location:
BART Board of Directors
2040 Webster Street, Third Floor
Oakland, CA