Article Media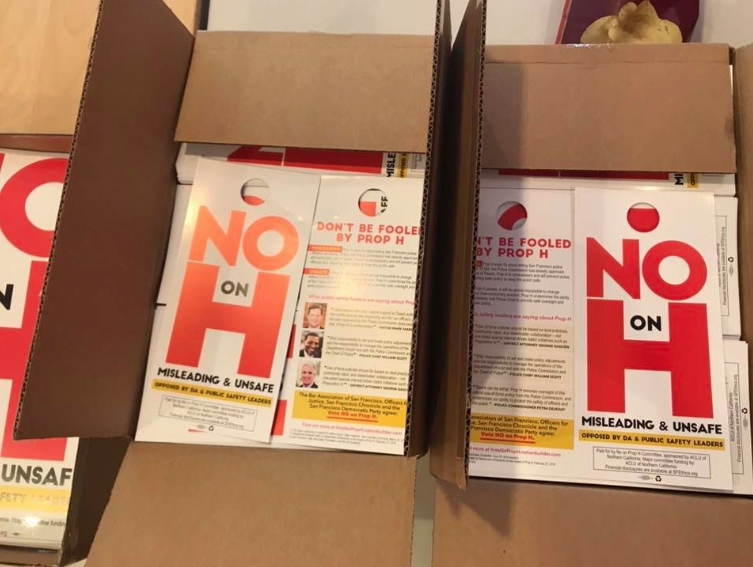 Spread the word about No on H!
On May 6:
Learn about the measure and how you can volunteer with the campaign.
Help us brainstorm about how to defeat Prop H.
Drop lit at as many houses as possible!
Meet up outside the Conservatory of Flowers to pick up literature, talk to other volunteers, and enjoy some snacks and drinks in the sun.
Let's beat back Prop H and keep San Francisco safe!!
Location:
SF Conservatory of Flowers
100 J F Kennedy Drive
San Francisco, CA
About the No on H Campaign
Prop H is a dangerous attempt by the San Francisco Police Officers Association (POA) to drastically loosen existing restrictions on Tasers. It would undermine important policies by the Police Commission and the Police Chief that require de-escalation before use of force.
If Prop H passes, San Francisco police will be allowed to use a Taser on someone who is unarmed and poses no immediate physical threat, or on someone who says no to a police order due to confusion or mental illness. The Prop H law would also undermine much of the de-escalation training the police department is undergoing. We have to stop this dangerous ballot measure. If it passes, it can only be changed through another expensive election or a four-fifths majority vote by the Board of Supervisors. It's reckless and unprecedented to strip the Chief and Commission of their power to regulate how a dangerous weapon is used by police officers.
We have to stop the SF POA from unilaterally establishing dangerous policy that cannot be altered, even for common sense reforms that emerge after Tasers are deployed.
We hope to count on you to volunteer and join us in standing up to this blatant power play!
Get involved
More info and a list of endorsements
Paid for by No On Prop H Committee
Sponsored by ACLU of Northern California
350 Alabama St. #9
San Francisco, CA 94110
Financial disclosures available at sfethics.org
FPPC # 1403673