Article Media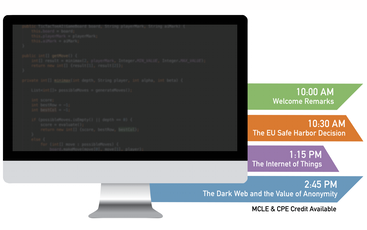 Join Chris Conley (Technology & Civil Liberties Policy Attorney, ACLU of Northern California) at the Programming the Law: Privacy, Security, and Innovation Symposium.
The symposium will bring together policymakers, legal scholars, attorneys, and privacy advocates to collectively consider the future of privacy in important areas such as: Transatlantic Data Transfer, Internet of Things (IoT), and Dark Web/Anonymity. The event will focus on the latest developments in the US-EU Safe Harbor Framework, the roles of startups and businesses in the expansion of IoT into homes, and the evolving jurisprudence around the privacy right to anonymity.
Together we will explore the questions surrounding how such data should be stored, managed, and protected as our everyday life becomes increasingly digitized. The event is free and open to the public. MCLE and CPE credit will be offered to practicing attorneys and privacy professionals.
Space is limited so register today.
Location:
UC Hastings College of the Law - Alumni Reception Center
200 McAllister St.
San Francisco, CA
Presented by the Hastings Science & Technology Law Journal and Hastings Communication & Entertainment Law Journal.