Article Media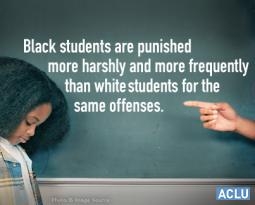 Join the ACLU of Northern California's Education Equity Staff Attorney Linnea Nelson at an event exploring discriminatory school policies and how San Mateo County can fight for education equity.
The program on Thursday, Oct. 23 starts at 7:30 p.m. and the reception with light refreshments begins at 6:45 p.m. at the Silicon Valley Community Foundation in San Mateo.
For more info: (650) 286-7791 or npenaclu@gmail.com.
Across California public school students are being suspended and expelled at an alarming rate. Students of color are more likely to be suspended or expelled for the same behavior as white students. LGBTQ students are also disproportionately impacted by biased school discipline policies.
Severe discipline does nothing to make schools safer or to improve graduation rates. In fact, more students in California are suspended than graduate high school each year.
In 2014, Gov. Jerry Brown signed AB 420, making California the first state in the nation to eliminate expulsions for minor misbehavior like talking back and not having school materials. It also eliminates suspensions for kids in the third grade and younger. This law is an important first step at addressing bias and keeping kids in school.
Location:
Silicon Valley Community Foundation
1300 S. El Camino Real
San Mateo, CA
This is a free event hosted by the ACLU of Northern California's North Peninsula Chapter.