Article Media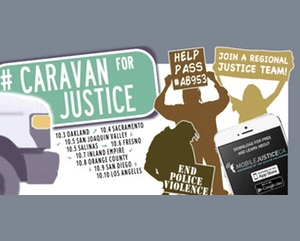 Statewide Tour for Truth and Reinvestment.
Together, we will mobilize communities against police violence.
Family members of victims of state violence in the United Kingdom join the Ella Baker Center for Human Rights and the ACLU of California on the Caravan for Justice tour making eight stops across California from October 3 to 10.
Join us and RSVP for caravan stops in the following communities:
Oakland – 10/3
Sacramento – 10/4
Stockton & Salinas – 10/5
Fresno – 10/6
Riverside - 10/7
Fullerton – 10/8
Los Angeles – 10/10
At each stop, organizers and community members directly impacted by law enforcement violence will share their stories, introduce new tools like the Mobile Justice CA app and highlight how you can take part in a local Justice Team.
Justice Teams will advance a Truth and Reinvestment agenda – demanding that funds for policing and jails be directed toward services for communities of color most harmed by decades of criminalization, incarceration and systemic oppression.