Article Media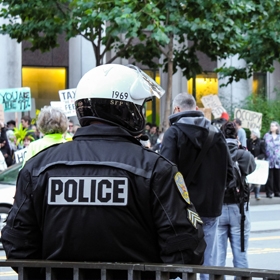 Join the campaign to pass AB 931 and SB 1421 – two important bills to increase police transparency and accountability and reduce deadly use of force in California.
We've reached a tipping point: Californians are weary of seeing police shoot and kill people (especially people of color) without being held accountable. Two bills, AB 931 and SB 1421, are aimed to save lives and increase accountability, but we need your help.
This happens with alarming frequency. Just last year alone, police shot and killed 162 people in California. We need to change California laws.
Right now, police can use deadly force even when other options exist. In addition, California is one of the most secretive states in the country when it comes to releasing information about how departments investigate deadly interactions and confirmed police misconduct.
Police should never kill when there are other alternatives. Register to learn what the ACLU and our partners are doing to put a stop this.
California can and must hold law enforcement to a higher standard. We need to open serious misconduct records with SB 1421 and change the rules governing the use of deadly force with AB 931. Only then can we save lives and begin to repair police-community relations.
Join the webinar on June 14 at 10 a.m. to hear about these bills and how you can pitch in to make sure they get passed.
This webinar is hosted by ACLU SoCal, Communities United for Restorative Youth Justice (CURYJ), and PolicyLink.