Maria Romani
Image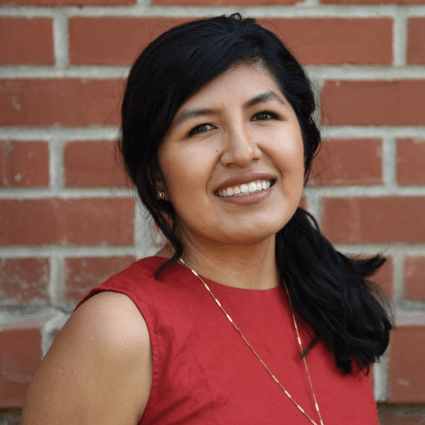 Abogada de Política de Derechos de los Inmigrantes
Maria Romani se une a nosotros como abogada de la Política ACLU de Derechos de los Inmigrantes de California. Maria tiene su sede en Fresno y se enfoca en políticas estatales que afectan los derechos de los inmigrantes.
Antes de unirse a la ACLU, María fue abogada del personal de los Servicios de Defensa de Brooklyn a través del Proyecto de Unidad de Familia de Inmigrantes de Nueva York, donde representó a los no ciudadanos detenidos en sus procedimientos de expulsión. Durante su tiempo como abogada de detención, realizó audiencias de fianza y mérito en nombre de sus clientes, a menudo trabajando junto a organizaciones comunitarias.
Maria también trabajó en Make the Road New York, donde ayudó a construir la unidad de inmigración, abogó por el fraude en los servicios de inmigración y representó a los no ciudadanos en procesos afirmativos y de expulsión. Mientras estuvo en Make the Road, trabajó con los organizadores de la comunidad para brindar apoyo legal, desarrollar materiales y talleres para los miembros de la comunidad y ayudar a elaborar estrategias en torno a las campañas locales. Maria trabajó con estudiantes de la Clínica de Derechos de los Inmigrantes de la NYU para crear una guía dirigida al Departamento de Policía de Nueva York sobre el proceso de certificación del Estado de No Inmigrante U después de notar una tendencia en su práctica de limitar las subvenciones de certificación. En 2011, ayudó a lanzar la campaña educativa de Make the Road en torno a las redadas comunitarias.
Maria obtuvo su JD de la Facultad de Derecho de la Universidad de Nueva York. Mientras estaba en la facultad de derecho, participó en la Clínica de Derechos de los Inmigrantes de NYU, representando a un menor no acompañado y trabajando junto a Domestic Workers United para hacer cumplir una ley de derechos de los trabajadores recientemente aprobada. Maria fue una estudiante académica a través del Programa Latinx Rights Scholars y copresidenta del colectivo Women of Color Collective durante su tiempo en NYU. También fue una becaria de Ella Baker durante su pasantía en el Centro de Derechos Constitucionales, donde trabajó en la investigación e información sobre los litigios de la FOIA en torno a comunidades seguras. Maria se graduó magna cum laude de la Universidad de California, Los Ángeles, donde obtuvo su licenciatura en historia y ciencias políticas. Ella nació en Cusco, Perú, y creció en Fresno.