Raquel Ortega
Image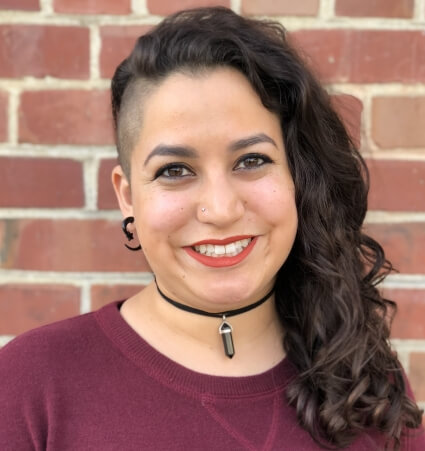 Organizadora
Raquel Ortega es una organizadora de la ACLU del norte de California, donde se enfoca en proporcionar capacitaciones, materiales, recursos y apoyo de la coalición Conozca sus derechos en torno al tema de los derechos de los inmigrantes.
Raquel comenzó a trabajar en la ACLU-NC en enero de 2016. A través de su trabajo con ICE Out of California Coalition, Raquel brindó apoyo para la aprobación de la Ley TRUTH, para proporcionar información sobre sus derechos en las cárceles.
Antes de unirse a la ACLU, Raquel trabajó como coordinadora de campo en URGE: Unite for Reproductive and Gender Equity, una organización nacional sin fines de lucro con sede en Washington, DC. Durante su tiempo en URGE, trabajó con cientos de jóvenes en todo el país para luchar por la libertad reproductiva en los campus y en sus comunidades. En 2013, después de que dos tercios de las clínicas de aborto en Texas cerraron debido a la aprobación HB 2, Raquel cofundó West Fund, que proporciona fondos para pacientes que buscan atención de aborto. Actualmente se encuentra en la junta del Fondo Oeste actuando como Directora de Desarrollo.
Raquel se graduó de Smith College, donde recibió un título en gobierno con especialización en políticas públicas. Mientras estaba en Smith, Raquel realizó una exitosa campaña para que la universidad apoyara públicamente la Ley DREAM, un proyecto de ley destinado a proporcionar un camino a la ciudadanía para estudiantes jóvenes e indocumentados, que se reintrodujo en ambas cámaras del Congreso en ese momento. Aunque el proyecto de ley no fue aprobado en el Congreso, alentó a Smith a evaluar su postura sobre los problemas de inmigración y las formas de apoyar mejor a los estudiantes indocumentados. Por sus esfuerzos, recibió el Premio de la Unidad, que se otorga al estudiante que ha realizado la contribución más destacada para promover la diversidad y el multiculturalismo en la comunidad de Smith.
En su tiempo libre, a Raquel le encanta bailar salsa, ver programas de ciencia ficción en Netflix y entrenar en el Jiu-Jitsu brasileño.