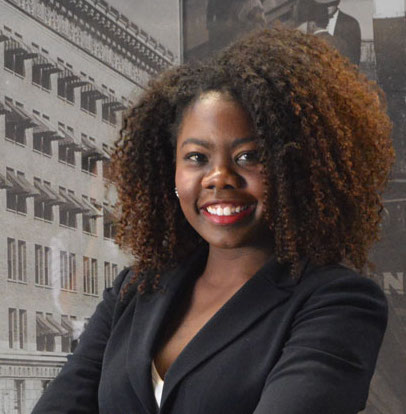 Abre' Conner is a staff attorney at the ACLU of Northern California, where she advocates for the civil rights and civil liberties of people in the Central Valley.
Abre' works on a variety of issues including freedom of speech, education, racial justice, voting rights, housing, and environmental justice. Recently, she filed a federal administrative class complaint on behalf of Black students in Visalia that alleges racial harassment and disparate discipline in the District. She also authored a state-wide report that detailed ways advocates can push for better school district funding allocations for high-need students across the state of California. She also leads litigation to stop the City of Sacramento from criminalizing homeless. She represented students in Vacaville Unified School District to ensure they kept their Black Lives Matter content in a yearbook. And she represented a Central Valley coalition and drafted comments that helped strengthen pesticide regulations near schools by the California Department of Pesticide Regulations. In People of The State of California vs. Calwa Varrio Locos, she drafted an amicus brief and represented the rights of gang members in hearings that helped shape better policies for those who would be enjoined in a gang injunction.
She led advocacy and organized Gay-Straight Alliance Network student leaders, parents and concerned community members to end Clovis Unified School District's unlawful dress code, which banned long hair, earrings, and dresses for male students, "exotic clothing and makeup," and hairstyles that "cause undue attention." Additionally, she led advocacy for better housing policies in Fresno when the city introduced a discriminatory nuisance ordinance that allowed the city to cite individuals up to $50,000 for "domestic disturbance" calls to the police. Working with cities, including Stockton, she led advocacy to remove a discriminatory voting system.
Prior to joining the ACLU-NC as a staff attorney, Abre' was a staff attorney in Delano, California, at the Center on Race, Poverty, and the Environment (CRPE) where her advocacy portfolio included air quality, fracking, civil rights, and sustainable community development. Earlier she was a J.D. Distinguished Fellow at the NAACP Legal Defense and Educational Fund in Washington, D.C., where she assisted in federal civil rights legislation coordination and a variety of civil rights cases. Before her fellowship in 2012, she offered legal and policy support to residents in Harlem, New York, at West Harlem Environmental Action (WE-ACT) regarding housing and superfund residential leases. She has interned with personnel and committee offices of the U.S. House and Senate in Florida and in Washington, D.C. She worked with the U.S. Department of Education in the Equal Employment Opportunity Services, the Office for Civil Rights, and the Lawyers' Committee for Civil Rights. She was also an associate in the White House Office of Presidential Personnel in 2012.
Abre' earned her law degree at American University Washington College of Law and undergraduate degrees from the University of Florida. She has been named as a top 40 under 40 lawyer by On Being a Black Lawyer, top 100 Black professionals by the Fresno Black Chamber of Commerce, Building Healthy Communities' "Community Champion" awardee, featured in Zeta Phi Beta's national magazine, New York Times' The Daily, and in Cosmopolitan Magazine.
She is currently the Northern California District Representative and Public Education Chair for the American Bar Association Young Lawyers Division, board member for Central California Legal Services, past General Counsel for the National Bar Association Young Lawyers Division, and the Northern California Social Action Coordinator for Zeta Phi Beta Sorority, Incorporated.