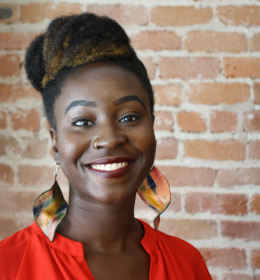 Asia Alman is an organizer at the ACLU of Northern California, where she mobilizes chapter members to advance criminal justice campaigns and demand an end to mass incarceration.
Prior to joining the ACLU, Asia was a health equity fellow at The Greenlining Institute, where she led Greenlining's efforts to submit public comments on the Trump administration's 2018 proposed new standard on public charge. Asia organized her colleagues to submit public comments of their own and facilitated comment-writing workshops with Berkeley graduate students. Later, she published a Greenlining blog post detailing how the public charge rule would undermine the health and well-being of all communities in the United States, including immigrant families like her own.
Asia also led the development of Greenlining's first state policy agenda addressing the need for equitable access to culturally competent health services and upwardly mobile health careers for girls and women of color. In constructing this agenda, Asia drew on her five years' experience working toward achieving a community-led vision of racial and gender equity, immigrant justice, and criminal justice. Her early work at the African American Policy Forum pushed her to organize direct actions to educate the public on the stories of Black women slain by police violence while coordinating summer wellness camps for Black girls navigating everyday instances of racial and gender-based violence.
At the Black Alliance for Just Immigration, Asia developed police de-escalation resource cards for immigrants and expanded her political analysis to include undocumented and immigrant Black women and girls. Later as a 2018 Thomas J. Watson Fellow, Asia conducted an international oral history project on the migratory experiences of Black immigrant women. In doing so, she collaborated with scholars, activists, and artists to create and facilitate participatory, narrative-based workshops in China, London, Jamaica, Dominican Republic, and Brazil.
Asia received her bachelor's degree with honors in political science and Africana studies from Vassar College, where she co-founded UJIMA: A Groove Society, the college's only student of color music group specializing in jazz, R&B, soul, and Gospel genres. Asia received several awards for her thesis entitled "From Margin to Center: UndocuBlack Women and Black Transnational Feminism," including the Paul Robeson Prize for best senior thesis in Africana studies.
In her spare time, Asia enjoys singing jazz standards and dancing to R&B classics. She serves on the board of directors of the Telluride Association, an educational non-profit that offers summer programs for high school students from diverse backgrounds who share a passion for learning. In addition, she is a California Women's Foundation Women's Policy Institute local advocacy fellow focusing on late-night release policies in Alameda County jails.