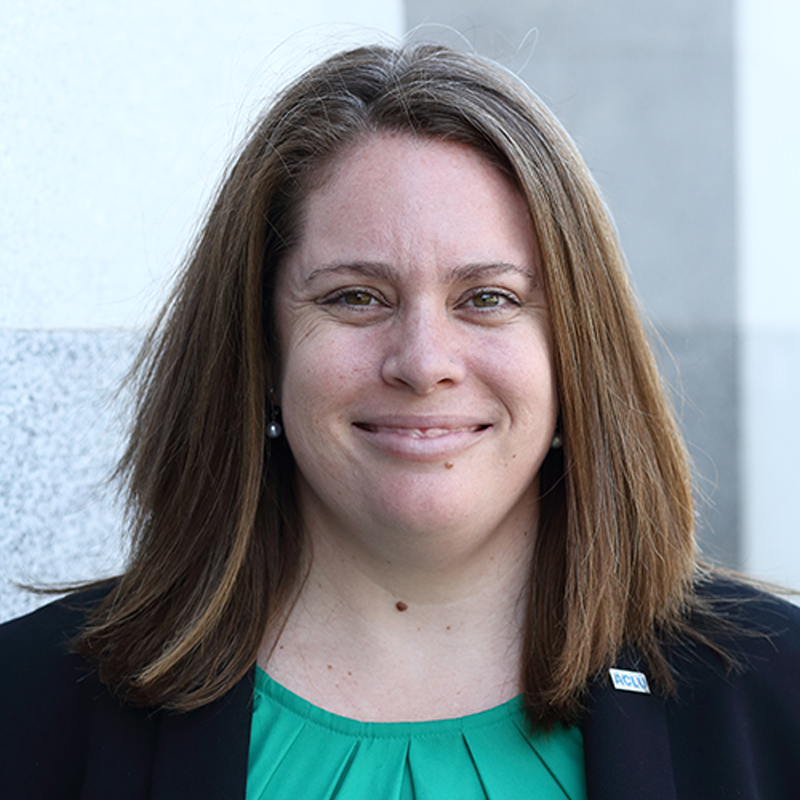 Becca Cramer is the legislative coordinator at the ACLU of California Center for Advocacy & Policy, where she serves as intern coordinator, lobbyist on LGBTQ and privacy rights, and office manager.
Becca's proudest accomplishments at the ACLU include establishing systems to facilitate legislative work across the Center for Advocacy & Policy and the three ACLU affiliates in California, from creating a new bill tracking system to restarting and expanding a yearly internal analysis of civil liberties in the state legislature. She also initiated the Center for Advocacy & Policy's intern program and mentored high school, undergraduate, and graduate student interns. Becca enjoys strengthening the ACLU's relationships with coalition partners to advance civil rights and civil liberties legislation in California.
Prior to joining the ACLU, Becca was the associate pastor at First United Methodist Church of Loomis, where she coordinated the children and youth programs, helped lead worship and provide pastoral care for congregants, and assisted with the congregation's revitalization and visioning efforts. Before that, she served at two churches in Southern California and as an office administrator at the Cal Aggie Christian Association ("CA House").
In college, Becca coordinated the ACLU of Northern California's successful No on Prop 73 campaign to defeat an unconstitutional statewide initiative requiring parental notice for teens seeking abortions. She also interned with the ACLU of Northern California's organizing and community engagement department, and served as co-president of UC Berkeley's ACLU student group. In that capacity, she assisted with Free Speech Movement commemoration activities for over 3,000 students and coordinated a standing-room only discussion of marriage equality.
Becca has also interned with If/When/How (formerly Law Students for Reproductive Choice), the American Bar Association's Section of Individual Rights and Responsibilities, the California State Senate Health & Human Services Committee, California State Senator Deborah Ortiz, and Grace in Action.
Becca holds a B.A. from the University of California at Berkeley in Interdisciplinary Field Studies, with an emphasis on the politics of race and gender. She also holds a Master's degree in Divinity from the Claremont School of Theology. Becca is a recipient of the Reconciling Ministry Network's Cup of Justice Award for her work to make the United Methodist Church more inclusive of LGBTQ people.
Becca is an avid hiker, backpacker, and CrossFit enthusiast. She is a lover of animals and an active leader at her local church, including by teaching financial literacy to congregants.