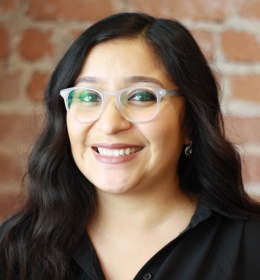 Christina E. Fletes is a Voting Rights Attorney at the ACLU of Northern California, where she protects and advances the voting rights of Californians. Her work ensures that all communities, regardless of their socio-economic status, have meaningful and fair access to engage in our democracy.  
Christina earned her law degree from the University of California, Berkeley, with a public interest and social justice certificate. She received a master's in public administration from the Harvard Kennedy School of Government where she was a Gleitsman leadership fellow. She also served as a senior editor for the Harvard Journal of Hispanic Policy and managing editor for the Harvard Journal of African American Policy. Christina obtained her bachelor's degree with honors from UC Berkeley in ethnic studies and political economy.  
Prior to joining the ACLU, she was a litigation associate at a large law firm in San Francisco where she had an extensive pro-bono practice focused on voting, education, and immigrant rights. Christina also worked as a research fellow at DataCenter in Oakland, where she managed the first-ever national gathering of quantitative data on domestic workers (nannies, caregivers, housekeepers). The resulting report, Home Economics, has been an important tool to help pass the domestic worker bill of rights in several states.  
Christina has been published in the Los Angeles Times, Stanford Social Innovation Review, Berkeley Journal of Employment and Labor Law, Harvard Kennedy School Review, Harvard Journal of Hispanic Policy, and the Harvard Journal of African American Policy.  
In her spare time, Christina enjoys cheering on the Golden State Warriors, San Francisco Giants, and Oakland A's.