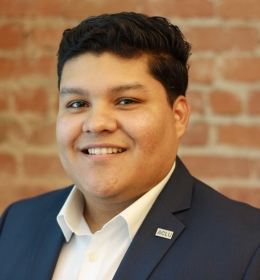 Eric S. Paredes is an organizer at the ACLU of Northern California, where he focuses on criminal justice, policing, and voting rights. Based in the Sacramento office, he works in close collaboration with colleagues within and outside of the ACLU to implement effective grassroots advocacy campaigns around legislation, policy advocacy, and specific local issues, while engaging and mobilizing ACLU members and supporters.
Prior to joining the ACLU, Eric worked as a political organizer for SEIU Local 2015. At SEIU, he helped lead the union's political agenda in 20 counties in Northern California and assisted in bargaining campaigns and state and federal legislative efforts. Eric has nearly eight years of organizing and campaign experience. 
Eric is a graduate of California State University, Chico, where he received his bachelor's in political science with a minor in Chicano studies. While at Chico State, Eric interned for the California Faculty Association (CFA), where he organized students on the issues of tuition increases, student debt, and cuts to ethnic studies courses. He also interned for a member of the U.S House of Representatives and for the Obama 2012 campaign.
A proud native of northern California, Eric grew up in Live Oak. In his spare time, Eric enjoys outdoor activities, watching documentaries, and spending time with friends and family. Eric is also an assembly delegate to the California Democratic Party.