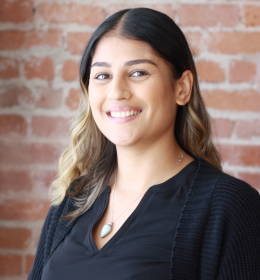 Hena Khairzadah is an administrative assistant at the ACLU of Northern California. In this capacity, she performs a broad range of administrative tasks in direct support of the legal-policy department's day-to-day operations.
Hena graduated from the University of California, Berkeley with a B.A. in Molecular and Cell Biology, Neurobiology, making her the first in her family to graduate from a four-year institution. During her undergraduate career, she co-founded the Migrant Advocacy Project (MAP), an organization that aims to promote racial equity for immigrant youth by increasing accessibility to higher education.
In summer 2019, Hena led her team in designing and implementing a college preparatory workshop series and scholarship initiative, known as the MAP Scholars Program. Recognizing that grade point averages may reflect on household income and access to resources rather than a student's potential to succeed, she selected students based on alternative measures of success, such as: intellectual curiosity, a willingness to give and seek help, and demonstrated resilience in the face of adversity. Upon completion of the MAP Scholars Program, 10 students were awarded an Apple MacBook Pro laptop to promote digital inclusion of immigrant youth at their post-secondary institutions. Hena hopes to continue advocating for educational equity by expanding MAP's range of services, registering the organization as a 510(c)(3) non-profit, and conducting policy-relevant research.
In her spare time, she enjoys cooking, reading, and training to become a long-distance runner.