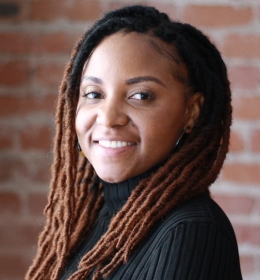 Jullanar Williams is a legal-policy assistant at the ACLU of Northern California. In this capacity, she provides legal and policy support for legal-policy staff who advocate for the civil rights and civil liberties of people in the Central Valley.
Prior to joining the ACLU, Jullanar was the prosecution assistant to the Tulare County District Attorney's Office with focus on financial crimes.
Jullanar is a graduate of California State University Sacramento, where she earned her bachelors of science in criminal justice with concentrations in criminology and sociology. As an undergraduate she received recognition for her research paper on "the Racialization of Crime and Other Contemporary Issues in Criminal Justice."
During her undergraduate studies she served as a California State University Sacramento MLK Scholar Leader for the MLK Leadership Institute, a division of student affairs program whose vision is to "foster an ethos of success that permeates the scholarly experience, the community and the world by setting a tone of change and lifelong improvement that inspires and fulfills the dream of Dr. Martin Luther King, Jr." Its mission is to "to support and ensure the success of African American students or those with an interest in African American heritage in their quest toward a degree at Sacramento State." The program provides student services such as academic workshops, tutoring, special events, peer-to-peer advising, SanKofa dialogues, leadership development, and community.
In her spare time, Jullanar plays adult recreational sports, including but not limited to soccer, basketball and softball. She is the committee chair for her maternal family's annual summer reunion in Palo Alto, California. She is a former California Common Cause student activist, a nonpartisan, grassroots organization dedicated to restoring the core values of American democracy, reinventing an open, honest, and responsive government that works for the public interest, and empowering ordinary people to make their voices heard.
Jullanar is also mother to her son Malakai.