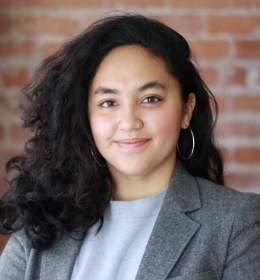 Program Administrative Assistant
Rizza Estacio is a program administrative assistant at the ACLU of Northern California. In this capacity, she supports the work of the Chief Program Officer and the four programmatic departments: Legal & Policy, Communications, Organizing, and California Advocacy & Policy.
Prior to coming to the ACLU, Rizza worked with Centro Legal de la Raza in the labor rights division, ensuring that low-wage, migrant workers were granted labor protections. In this role she did intake interviews and provided support to legal staff. Additionally, she worked as a production assistant with the Gender Equity Resource Center of UC Berkeley to put on the largest sexual violence awareness program at UC Berkeley.
Rizza is a graduate of the University of California, Berkeley, where she studied ethnic studies and English literature. She authored a thesis on the legal constructs marred by racist sentiments that are foundational to the creation of U.S. immigration policy, and how these constructs systemically impact those seeking asylum. During her time at Berkeley, she was awarded the RISE Award for Resilient Women Leaders for her work advocating for survivors of sexual violence. She also won the Society of Professional Journalist's National Mark of Excellence Award for best general column writing for exposes on gender-based violence on college campuses.
During her time at Berkeley, Rizza served as a senator in the Associated Students of the University of California. While serving in student government, she implemented a program that annually allocates funds to recruit and retain low-income students of color. She also lobbied both the UC Regents and members of the U.S Congress to reform Title IX policies and holistically address sexual violence on college campuses.
In her spare time, Rizza teaches English as a second language classes for community members who have recently immigrated to the United States and enjoys being in community with translators and those who are passionate about bridging language divides. On the weekends you can find her throwing pots on the wheel, taking a dance class, or writing poetry. She is a proud member of the Changing Womxn Collective – a collective of black, indigenous, women of color writers and creators ensuring that women of color have a space and platform to share their imaging and creations.