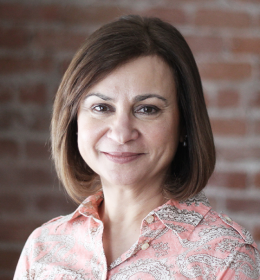 Associate Director of Leadership Gifts
Shernaz Boga is the Associate Director of Leadership Gifts at the ACLU of Northern California. In this capacity, she works closely with the rest of the development team to grow philanthropic support and build relationships with donors to advance the ACLU's mission of protecting the civil liberties and rights of all individuals, regardless of race, ethnicity, gender, sexual orientation, or immigration status.
Prior to joining ACLU NorCal in the summer of 2017, Shernaz was Senior Director of Development for the divisions of Social Sciences and Arts & Humanities, two of the largest divisions at UC Berkeley's College of Letters & Science. Before that, she was Senior Director of Development for the University of Texas Medical School at Houston, where she and her team were successful in significantly growing philanthropic support for the school across all departments. She has also managed fundraising programs in the arts, including at the Houston Symphony and the New Jersey Performing Arts Center.
Shernaz graduated with honors from the University of Cambridge with a degree in Law and was called to the Bar in the UK (Gray's Inn).
Shernaz lives in the East Bay with her husband, three sons, and rescue dog, Scooby, who moved with the family from Texas in 2012.