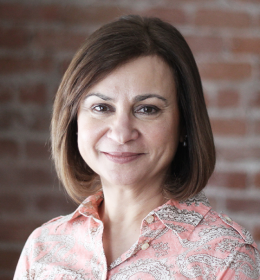 Associate Director of Leadership Gifts
Shernaz Boga is an Associate Director of Leadership Gifts at the ACLU of Northern California (ACLU-NC). In this capacity, she works closely with the rest of the development team to grow philanthropic support for the ACLU-NC, and builds relationships with donors to advance the ACLU's critical work in protecting the civil liberties and rights of all individuals, regardless of race, ethnicity, gender, sexual orientation or immigration status.
Shernaz has worked extensively with individuals, corporations and foundations to help them achieve their philanthropic goals, and has enjoyed success as a major gifts fundraiser in the arts, higher education and healthcare. She is committed to bringing the same enthusiasm and dedication to social justice, and is excited to be working on the Centennial Campaign, which celebrates the ACLU's upcoming 100-year anniversary in 2020.
Prior to joining the ACLU-NC in the summer of 2017, Shernaz directed the fundraising programs for the divisions of Social Sciences and Arts & Humanities, two of the largest divisions at UC Berkeley's College of Letters & Science. Before that, she was Senior Director of Development for the University of Texas Medical School at Houston, where she and her team were successful in significantly growing philanthropic support for the school, despite being in the very competitive fundraising environment of the Texas Medical Center. Her fundraising background in the arts includes overseeing the corporate giving program at the Houston Symphony, and the annual fund campaign at the New Jersey Performing Arts Center. She has experience working on capital campaigns, and has raised funds for a wide spectrum of projects and causes.
Shernaz has an honors degree in Law from the University of Cambridge, UK. She is a member of Gray's Inn, London, and was called to the Bar in England.
Shernaz is a volunteer Court Appointed Special Advocate (CASA) for a foster child in the Bay Area, and is crazy about dogs. She lives in the East Bay with her husband, three sons, and rescue dog, Scooby, who flew with the family from Texas in 2012. The entire family is in awe of the incredible weather in the Bay Area, and still can't believe that there are actually places one can live where the humidity is below 90%.