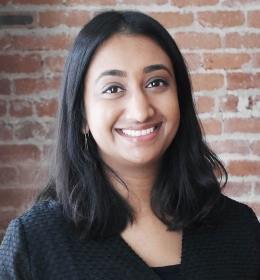 Immigrants' Rights Director
Vasudha Talla is Immigrants' Rights Program Director at the ACLU of Northern California, where she works to defend and advance the rights of immigrants and Arab, Middle Eastern, Muslim, and South Asian (AMEMSA) communities.
Her current cases include Jane Roe 1 v. Trump, a challenge to the executive orders banning refugees and nationals of majority-Muslim countries from entering the United States.
Prior to joining the ACLU as a staff attorney, Vasudha worked in a variety of settings serving marginalized and vulnerable communities. She worked with the International Refugee Assistance Project in Beirut, Lebanon, and the Office of the U.N. High Commissioner for Refugees in Mexico to represent and protect asylum-seekers and refugees. In New York City, she was an associate at Emery Celli Brinckerhoff & Abady LLP, a civil rights law firm, where she focused on prison conditions and police misconduct litigation. At the New York Civilian Complaint Review Board, she published a comprehensive report on improper home entries and searches by the NYPD. She also served as an Arthur Liman Fellow at Sanctuary for Families in New York, NY, where she expanded Sanctuary's services for domestic violence victims to detained immigrant women in New York and New Jersey through direct representation and outreach
Vasudha received a B.A. in English from New York University and a J.D. from Yale Law School. In law school, she served as a director of the Immigration Legal Services Clinic and the Lowenstein Human Rights Project. She also participated in the Criminal Defense Clinic, served as an Articles Editor for the Yale Journal of Law & Feminism, and worked as a Coker Fellow teaching assistant for Professor Judith Resnik. She spent her law school summers interning at a human rights organization in Buenos Aires, Argentina, the Center for Gender and Refugee Studies, and Debevoise & Plimpton LLP. After law school, she clerked for the Honorable Keith P. Ellison of the U.S. District Court for the Southern District of Texas. She is admitted to practice law in California and New York.