What Ways
Will You
#Powerthe14th?
The 14th Amendment is a powerful articulation of our country's commitment to the equal rights of every person.
Ratified on July 9, 1868, the 14th Amendment turns 150 years old this year. Originating in the struggle to abolish slavery and ensure the human rights of African Americans, this amendment was passed to apply the fundamental rights in the Constitution to every person, to every citizen, in every state in this country. It is an expression of some of our most important principles. It says that all persons born or naturalized in the United States are citizens. It also provides for equal protection under the law and due process for ALL persons, citizen, and non-citizen alike.
The 14th Amendment came under attack soon after its ratification, by lawmakers and by courts who sustained the racial segregation of Jim Crow for nearly a century.
But the promise of the 14th Amendment was not forgotten. A powerful movement of people in the streets and advocates in the courts renewed its promise.
On this 150th anniversary, we have much to fight for. Many of our fundamental rights today are the result of those struggles and are based on the 14th Amendment. And yet the vital freedoms so many fought to secure are under attack right now. We are not deterred. We know people like you believe deeply in equality, justice, and dignity for all people.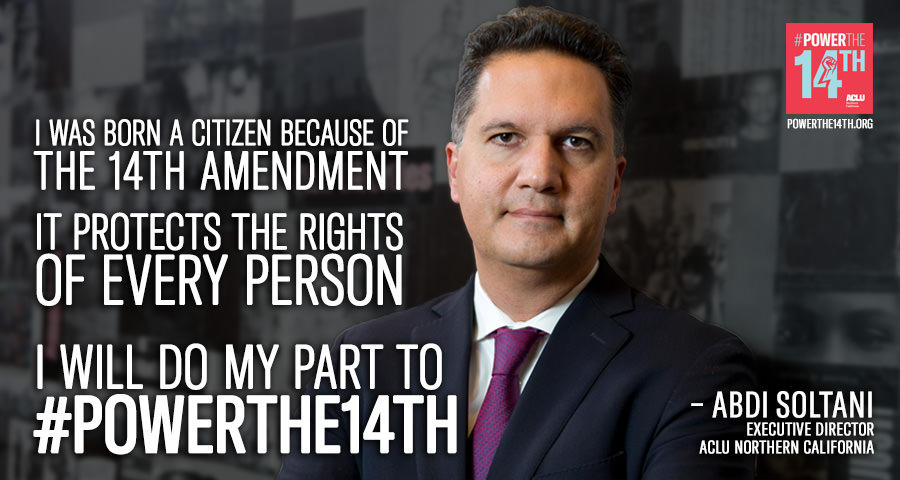 Frederick Douglass said, "The law on the side of freedom is of great advantage only when there is power to make that law respected."
We, the people, are that power. Now is the time to #Powerthe14th.
This space recognizes the power of the 14th Amendment, highlights some of the people who protect its principles, and offers ideas and insight into how each of us can be the power behind the 14th.
In honor of all that the 14th Amendment represents, we ask you to join us in speaking up for the principles that undergird our freedom and equality.
It's time to #Powerthe14th.