Fighting for Black Trans Women this Pride and Beyond
Jun 28, 2019
Page Media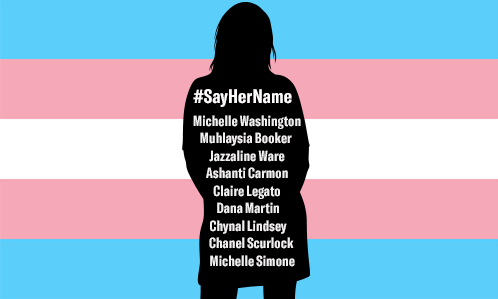 This Pride weekend, as we celebrate the 50th anniversary of the Stonewall Rebellion, let's march, let's celebrate, let's party. But first let us remember today and always that the lives of Black trans people, and specifically the lives of Black trans women, matter. Let's recognize and memorialize the great social, political, and civil rights gains achieved over the past 50 years by Black and Latinx trans women leaders like Marsha P. Johnson, Miss Major Griffin-Gracy, and Sylvia Rivera, whose contributions have often been rewritten or erased. 
The activism of these leaders was firmly rooted in the voices of the most marginalized in the queer community and they were committed to leaving no one behind. Yet over the last 50 years, the lives of trans people of color, and specifically Black trans women, remain under constant attack. In addition to enduring extremely high levels of racist and transphobic interpersonal violence, Black trans women face discriminatory and violent policing and criminalization— and the Trump administration's rollback of critical non-discrimination policies has further jeopardized their access to healthcare and housing.
Most tragically, several Black trans women have been killed this year and even publicly brutalized.  The murders must stop and we must say and remember their names: Dana Martin, Jazzaline Ware, Ashanti Carmon, Muhlaysia Booker, Claire Legato, Michelle Simone, Michelle Washington, Paris Cameron, Chynal Lindsey, Chanel Scurlock, Zoe Spears, Layleen Polanco. Let's honor their lives, be of service to their legacies, and rebuke those that misgender and deadname them after they are gone. 
Fortunately, actions are being taken to advocate for Black trans women and for gender non-conforming (GNC) and non-binary folks in their fight for freedom from all forms of violence. One of many ways to join in this fight is to support and take the lead from Black trans women-led organizations like the TGI Justice Project. They, along with other trans-led organizations, LGBTQ rights organizations, and the ACLU are working to improve conditions for incarcerated transgender people. For example, a current California bill, the Transgender RAD Act, SB 132, if passed, will require the California Department of Corrections and Rehabilitation to house transgender people in accordance with their own perception of health and safety, which will decrease their likelihood of experiencing gender-based violence.
We should also invest in spaces of trans inclusion, heritage, and healing like the Compton's Transgender Cultural District in San Francisco. It is named after Compton's Cafeteria, the site of the lesser known queer resistance that preceded the Stonewall Rebellion by three years. The District, established in 2016, was the vision of three Black trans women, Janetta Johnson, Honey Mahogany, and Aria Sa'id, along with other queer leaders. Spanning six blocks of the Tenderloin neighborhood, the Compton's is the first ever legally recognized transgender cultural district in the world. 
Another opportunity to make change is to tackle the criminalization of Black trans women. People of color and transgender sex workers are disproportionately impacted by the criminalization of sex work, with Black street-based sex workers bearing the brunt of policing and adverse interactions with law enforcement. SB 233, currently advancing through the California legislature, would take a historic step towards supporting the self-determination of sex workers by providing immunity from arrest when sex workers come forward as witnesses to or a victims of violent crimes. It will also prohibit condoms from being used as evidence to arrest or prosecute individuals for prostitution, creating safer working conditions and allowing sex workers to protect themselves.
Finally, the Trump administration's broad assault on civil and human rights has generated much intersectional discussion about the role of California as a haven state. With that in mind, this Pride weekend and beyond, don't let the rainbow-washing and corporate co-opting of the festivities lull us into a state of complacency. Instead, let's ask ourselves, how can California truly be a safe haven for Black trans women and GNC folks? How can advocates make serious commitments to the safety and dignity of Black trans women and acknowledge their contributions to our communities? The answers lie in the legacy of queer resistance and courageous acts of social and political defiance from the margins of the LGBTQI+ community. If not now, when?
Arneta Rogers is a Reproductive Justice & Gender Equity Attorney at the ACLU of Northern California