ICE Strong Arms Immigrants into Signing Deportation Documents
Nov 12, 2015
Page Media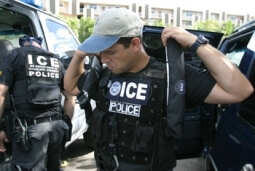 Immigration agents in Bakersfield wanted Heleno Garcia Ramirez to sign a document in August that would have resulted in his immediate deportation. Garcia Ramirez, a U.S. resident for almost 25 years and the father of three children who are citizens, told them he wanted to fight his case.
The Immigration and Customs Enforcement (ICE) agents had another fight in mind. Four of them tackled Garcia Ramirez from behind, pinning his arms behind his back and putting him into a headlock.
One agent then twisted Garcia Ramirez's arm behind his back into a hammerlock to force him to sign. Garcia Ramirez pleaded for him to stop, but the agent continued twisting his arm until Garcia Ramirez heard a pop. Then came a pain spreading throughout his arm.
The agents then used physical force to take Garcia Ramirez's fingerprints. Later, a doctor diagnosed Garcia Ramirez with a fractured wrist.* He was forced to wear a cast for approximately two months. He still wears an arm brace and suffers pain every day, nearly three months later.
The ACLU and other advocates have received reports for several years that ICE agents in Bakersfield have unlawfully coerced immigrants to sign deportation documents. Agents' tactics include deceit and threats and the use of force resulting in injury.
Today, the ACLU of Southern California and the ACLU of Northern California told ICE that enough is enough.
We have called on ICE to promptly investigate its Bakersfield Field Office and immediately halt this pattern of physical and verbal coercion. Under no circumstances is the use of unlawful coercion warranted against those peacefully asserting their rights. ICE's tactics not only violate the law and ICE's own detention standards. They offend our most basic values of human decency and fair play.
For at least two years now, the ACLU and other advocates have alerted ICE about its agents' practice of unlawfully coercing immigrants into signing deportation orders at ICE offices across the country. Just this summer, advocates filed a complaint with ICE and the Department of Homeland Security highlighting coercive practices by ICE in Alabama, including the use of physical force to get signatures and fingerprints. Yet ICE has done little to curb the abuses.
Garcia Ramirez's ordeal in Bakersfield is not isolated. When Altamirano Perez refused to sign a deportation document in September until he could speak with his lawyer, Bakersfield ICE agents lied to him, telling him that his attorney had consented to his deportation.
But his attorney was actually in the process of filing documents to stop his deportation. The agents then jumped Perez from behind and forcibly took his fingerprints.
Law enforcement and ICE leadership must take immediate steps to end this pattern of abuse. In early October, we reported the crime against Garcia Ramirez to federal law enforcement, ICE, and others. We are still waiting to hear back. Unless ICE and federal law enforcement investigate these incidents and hold the perpetrators accountable, ICE and those authorities will be accomplices.
*This post was updated on 5/17/16 to reflect new information received by the ACLU on Garcia Ramirez's injuries.
Katie Traverso is an attorney and the Stanford Law Fellow at the ACLU of Southern California.