Will California lawmakers vote to protect Californians' privacy or tech industry profits?
Mar 27, 2019
Page Media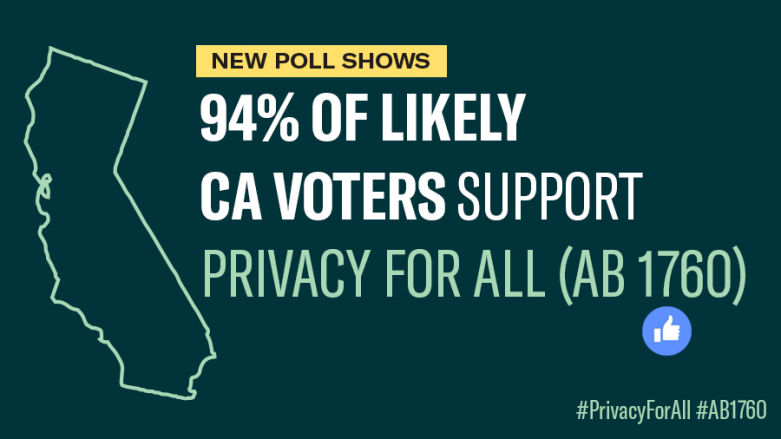 Last year, California lawmakers passed the California Consumer Privacy Act (CCPA), a new law to strengthen consumer privacy protections. A few weeks ago, newly-elected Oakland Assemblymember Buffy Wicks introduced AB 1760: Privacy for All, to add critical improvements to current law and ensure privacy is a right we can all exercise in California – and pave the way for other states to do the same –regardless of what we look like or how much money we have in our bank account.
Earlier this month, the ACLU of Northern California contracted with David Binder Research to see if likely voters supported the key provisions of AB 1760. The results are in: Californians overwhelmingly support the privacy protections in Privacy for All.
The bill's premise is simple: It's time for Californians to take control of their personal information, hold tech companies accountable, and ensure that everyone has the same privacy rights. For years, technology companies have been recklessly harvesting, exploiting and sharing our personal information often without our permission and without telling us how or with whom they're sharing our information.
The results? Facebook shared millions of users' personal information with Cambridge Analytica. Massive data breaches show up in the headlines every week. And people's personal information is put to new and dangerous purposes, including discrimination, surveillance, and harm.  
It's no surprise that Californians are fed up with companies who aren't doing enough to protect personal information.
Support for stronger privacy laws cuts across every imaginable line. Democrat or Republican, urban or rural, male or female, white, Black, Latino, Asian? It doesn't make a difference. Young people don't care about privacy? Tell that to the 96% of people aged 18-38 who support strong new privacy laws. Privacy is a right that everyone understands is necessary in the modern age. Now the question is: will California lawmakers vote to pass Privacy for All, or will they side with the tech industry and its endless pursuit of profits?
Californians Want Knowledge for All
97% support legislation to make sure companies ask and get our permission before they can share our personal information. Current law only requires permission before companies "sell" our information, so companies can still share our information with other entities. But Facebook claims it didn't "sell" personal information and we all know how that ended – Facebook handed over troves of personal information to Cambridge Analytica. And many other apps share our personal information with Facebook. That's why Privacy for All covers the sharing as well as the sale of personal information.
95% want the right to know what information companies have collected about them and who they have shared it with. When we make a purchase, browse the Internet, communicate with our friends and family, or add an app to our mobile phone, we deserve to know where our personal information is going and how it's being used. Under Privacy for All, people can learn what personal information companies have collected and how that information has been used.
Californians Want Rights for All
86% support rules that stop companies from charging higher prices or providing a worse product to people who exercise their privacy rights. No one should be forced to choose between paying their bills and protecting their family's privacy. Unfortunately, current law allows companies to discriminate against people who exercise their privacy rights. Privacy for All makes sure that California constitutional privacy rights aren't reserved for the rich.
94% want the right to take a company to court if they violate their privacy rights. Under Privacy for All, consumers can exercise their right to privacy and hold companies legally accountable when they don't comply with the law.
Californians Want Tech Companies to Do More
89% agree that tech companies must do more to protect personal information. Companies are unlikely to step up and protect Californians' right to privacy. For most tech companies, it's profits before privacy. That's why we need Privacy for All.
Tell California Lawmakers: We Demand Privacy for All
Although current law falls short of the privacy rights Californians want, tech companies are trying to weaken it even further, both in California and Washington D.C. We don't need weaker privacy laws; we need a strong law that ensures that all Californians can be part of our connected world without sacrificing their individual rights. Please join us in telling legislators that AB 1760, Privacy for All, is what Californians want and deserve.
Jacob Snow is a Technology & Civil Liberties Attorney for the ACLU of Northern California.