Article Media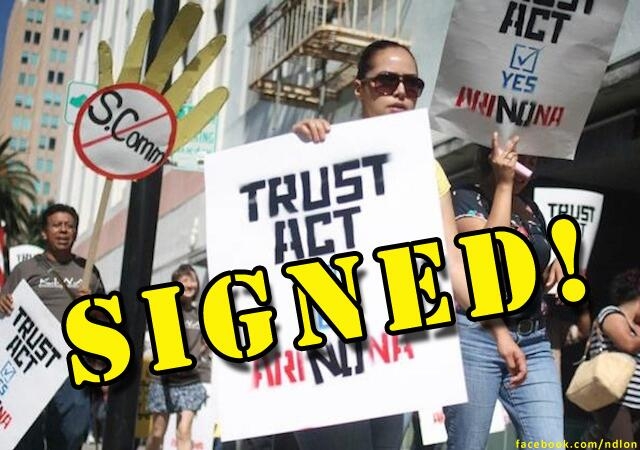 The ACLU of California applauds Governor Brown for signing AB 4, the TRUST Act, a bill authored by Assemblymember Tom Ammiano. The TRUST Act creates a clear minimum standard for when local law enforcement will respond to federal immigration detainer requests that result from the Secure Communities program (S-Comm). S-Comm requires local law enforcement to share the fingerprints of anyone they arrest with immigration authorities, which often leads to the detention of immigrants in local jails solely based on immigration status. This undermines due process and has resulted in decreased trust between immigrant communities and local law enforcement.
"The TRUST Act will make all Californians safer. When local law enforcement jails members of our community solely on the basis on their immigration status, trust is undermined," said Norma Chavez-Peterson, executive director of the ACLU of San Diego & Imperial Counties. "This bill allows victims to report crimes with confidence, police to solve crimes more effectively, and sheriffs to use scarce jail space more wisely."
"The ACLU has seen the impact of S-Comm on California families and communities as over 100,000 immigrants have been deported through this program in our state alone. The TRUST Act will help to ensure that every Californian is afforded due process and not subjected to unlawful prolonged detention on the basis of their immigration status," said Hector Villagra, executive director of the ACLU of Southern California.
The ACLU of California has worked with a number of our community members throughout the state who were mistreated because of immigration detainer requests. For example, California Highway Patrol (CHP) officers arrested a woman named Perla, a U.S. citizen, for a traffic infraction, and Perla was held in the local jail on a federal detainer for three days before immigration officials instructed the sheriff to release her, citing an error in "the database" as the cause for the immigration detainer request. In addition, Los Angeles County officials unlawfully held acclaimed British film director Duncan Roy for three months while he was awaiting trial. County officials would not allow him to post his bail, in violation of state and federal law, based solely on an immigration detainer request. LAPD officers, responding to an emergency call from Isaura Garcia when her boyfriend became violent, arrested her instead of him, which landed her in deportation proceedings when her fingerprints were shared with immigration authorities. In Bakersfield, Ruth Montano, a farmworker and mother of three, was detained for a week because of an immigration detainer that was issued after she was arrested on charges that her dogs were barking too loudly.
"While the federal government has repeatedly promised to stop unjust detentions and deportations, and to keep families together, today California took a major step in that direction," said Abdi Soltani, executive director of the ACLU of Northern California. "This legislation highlights California's belief that we can do better than the harmful collaboration between local law enforcement and immigration enforcement imposed on police and sheriffs throughout the country through S-Comm."
Learn more: