Article Media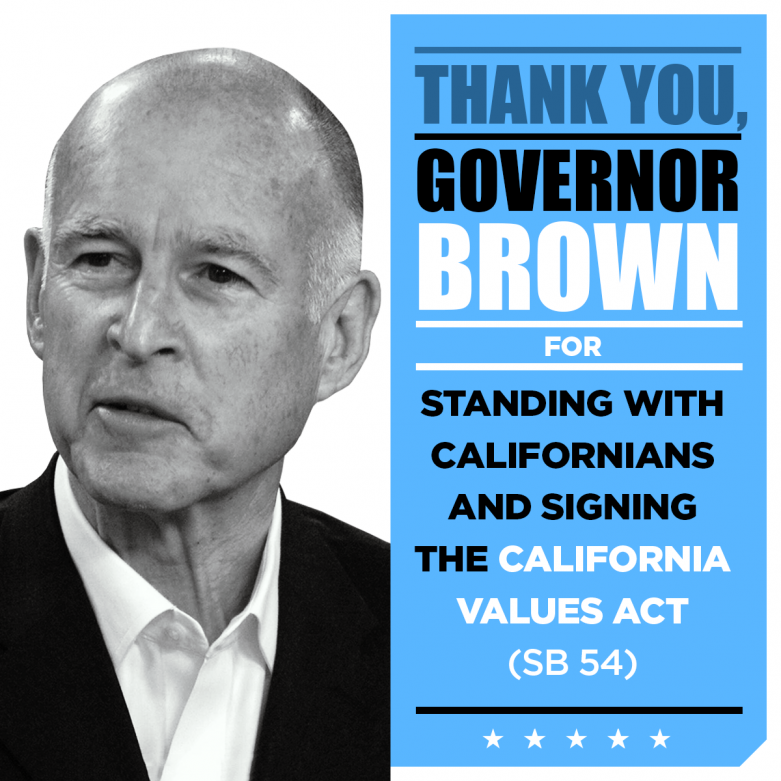 SACRAMENTO - Today, Governor Brown signed SB 54, the California Values Act, a bill introduced by Senate President pro Tempore Kevin De León (D-Los Angeles) to protect the rights of immigrants living in the state. In response, Jennie Pasquarella, Immigrants' Rights Director with the ACLU of California, had this to say: 
Today, Governor Brown acknowledged the voice and views of Californians across the state who worked day and night to ensure President Trump did not conscript California's state and local police into his national deportation force. With the stroke of a pen, the governor made good on his promise to 'defend everybody - every man, woman and child - who has come here for a better life and has contributed to the well-being of our state.'

With the California Values Act, California not only stands with millions of immigrants who call our great state home – today, California stands on the right side of history.
Background
The California Values Act (SB 54) will:
Prohibit local law enforcement from automatically transferring people to federal immigration authorities, with some exceptions;
Protect against unconstitutional detentions by barring local law enforcement from holding someone in custody, beyond their release date, for immigration agents; and
Ensure that California schools, hospitals, libraries, and courthouses remain safe and accessible spaces for everyone in California.
The bill will go into effect on Jan. 1, 2018.