Article Media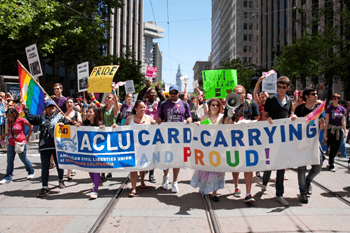 The ACLU of Northern California has been named the Community Organization Grand Marshal for San Francisco Pride 2012. The ACLU has a decades-long history advocating equality for LGBT people. It brought its first LGBT rights suit in 1936 and over many decades helped what became a strong movement for LGBT equality. Today, the ACLU remains in the thick of the battle, fighting for the recognition of same-sex married couples, respect for gender identity and expression, and respect for LGBT students.
Among the historical highlights:
The ACLU stepped in when police were raiding gay bars in the 1950s and 60s, including a 1956 raid of Hazel's Inn, a gay bar in Pacifica.

The ACLU defended Allen Ginsberg's Howl against obscenity charges for gay content

The ACLU helped stop the Briggs Initiative, a measure to ban gay people and advocates from teaching in California public schools.

The ACLU filed the nation's first same-sex marriage lawsuit, on behalf of a couple in Minnesota in 1972.

The ACLU helped win the first pro-LGBT U.S. Supreme Court decision, striking down Colorado's anti-civil rights initiative.

The ACLU brought the first sweeping challenge to "Don't Ask, Don't Tell," in 1994, and 16 years later, successfully concluded one of the last, successfully.
Today the ACLU brings more LGBT cases and advocacy initiatives than any other national organization. Recent victories include:
Last week a federal judge ruled that the so-called federal Defense of Marriage Act is unconstitutional, in an ACLU case in New York brought on behalf of Edie Windsor after the death of her partner of 44 years.

Two weeks ago the ACLU filed a freedom to marry lawsuit in Illinois. The ACLU is also working to ensure dignity and fair treatment for same-sex families across the country.

Represented Constance McMillen so that she could take her girlfriend to prom, one example of an ongoing effort to protect LGBT students' right to be themselves.

Overturned laws in Florida and Arkansas that banned LGBT people from adopting, including the notorious Florida law adopted as part of Anita Bryant's anti-gay campaign.
During June 2012 Pride Month, the ACLU will participate in a number of Pride-related activities and has expert spokespeople available on LGBT history as well as current lawsuits and campaigns.
The ACLU is sponsoring two films in the Frameline LGBT Film Festival:
"Wildness," Friday June 15, 9:30pm, at the Victoria Theater

"Love Free or Die," Sunday June 17, 4:30pm, at the Castro Theater
The ACLU will be blogging and Tweeting throughout Pride month. Follow @ACLU_NorCal to stay updated.
Additionally, ACLU supporters are encouraged to march with the organization's contingent in the Pride Parade on Sunday, June 24. Breakfast, coffee and an exclusive ACLU Pride 2012 t-shirt will be provided. RSVP online.
More info:
Historical Highlights of ACLU's LGBT Advocacy