Article Media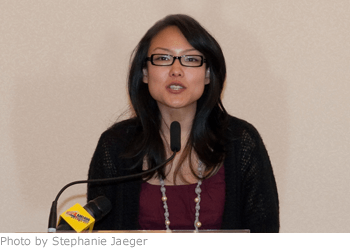 San Francisco – Supervisor Jane Kim introduced legislation before the Board of Supervisors today that would prohibit members of the San Francisco Police Department working with the FBI's Joint Terrorism Task Force (JTTF) from collecting intelligence on San Franciscans unless there is reasonable suspicion that they are involved in significant criminal activity.

The goal is to prevent San Francisco police officers from becoming involved in FBI intelligence abuses, including racial profiling and the improper use of informants.
The ordinance is the result of the work of the Coalition for Safe San Francisco, which has documented extensive community concerns over intelligence gathering and worked with local officials to come up with a series of recommendations. The Coalition worked with the San Francisco Human Rights Commission to hold a major hearing in 2010. The result was a comprehensive report, endorsed by the Board of Supervisors last year.
The power and size of the FBI has expanded greatly since 9/11. Federal standards on FBI intelligence gathering are weaker than standards adopted by San Francisco in the early 1990s, and weaker than those in the CA Constitution. For many San Franciscans, longstanding protections for political and religious expression – as well as personal privacy - are a source of pride.

"The purpose of this legislation is to restore local control, civilian oversight and transparency over the SFPD's participation in FBI intelligence-gathering," stated attorney Nasrina Bargzie of the Asian Law Caucus, which is part of the Coalition effort.

"It's important that a clear prohibition against policing based on race, ethnicity, national origin or religion applies to all of our officers, all of the time," added John Crew of the ACLU of Northern California.
More than 30 civil rights and community organizations have signed on to support Supervisor Kim's proposal. City supervisors are expected to vote on the whether to adopt the ordinance in the spring.
"I have worked to support the Safe SF Civil Rights Ordinance because it will help combat the culture of fear plaguing my community," said Mokhtar Alkhanshali, a Yemeni American resident of San Francisco and activist with the Coalition. "Since 9/11, Arab, Middle Eastern, Muslim, South Asian communities have endured pervasive discrimination and bias at the hands of law enforcement officials. We want our local police officers to protect and serve us, not to sign secret MOU agreements to intimidate and surveil us."

"The introduction of this ordinance sends a clear message that the protection of civil liberties is of utmost importance, and that the rights afforded by the California Constitution and local law will not be compromised," said Zahra Billoo, Executive Director of the San Francisco Bay Area chapter of the Council on American-Islamic Relations (CAIR-SFBA), also a part of the Coalition effort.

As things stand currently, there is no effective way to prevent SFPD inspectors assigned to the JTTF from joining FBI agents in collecting intelligence on San Franciscans without any "particular factual predication," and without reasonable suspicion of wrongdoing.
For additional information, visit: www.safesf.org or www.aclunc.org/jttf.