BREAKING: Another Local Victory for California Values
May 01, 2018
Page Media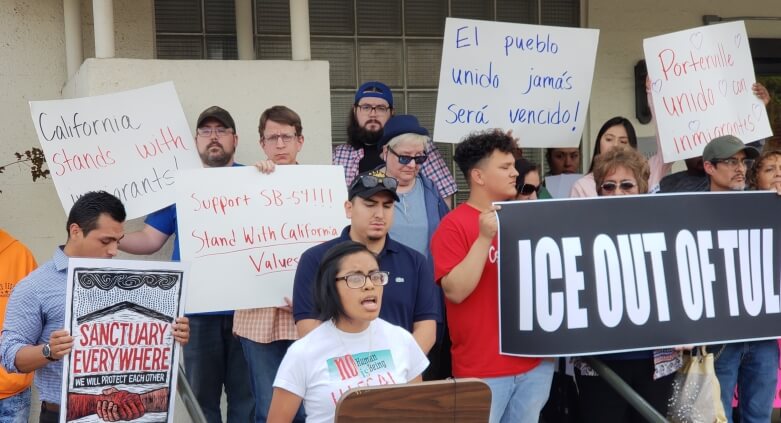 Tonight, Central Valley residents in Porterville spoke truth to power and defeated an anti-immigration resolution that was up for a vote at the city council. It's the latest in a string of victories showing that here in California, we stick together and we stand up for each other. The federal government's divisive agenda can't change that.
The community rallied tonight in front of Porterville City Hall, and advocacy groups like the Coalition for Humane Immigrant Rights del Valle Central, ACT for Women and Girls in Visalia, and Pan Valley Institute in Porterville organized a strong and unified showing at the city council meeting.
The defeated resolution opposed the California Values Act – also known by its bill name, SB 54 – which went into full effect this past January. The Values Act requires that local law enforcement disentangle itself from the work of federal immigration enforcement, leaving immigration-related investigations, detentions, and arrests to the federal government.
Porterville residents are in good company. Last week, the community of Del Norte County spoke out against (and defeated) an ordinance that was an attempt to exempt the county from abiding by the California Values Act. Just a day before the Del Norte victory, community members in San Dimas came out and defeated an anti-Values Act resolution in their city.
The Constitution is clear: the federal government cannot force local governments to capitulate to its cruel agenda of mass deportations. Court after court has confirmed this. Despite clear case law, Attorney General Jeff Sessions filed a lawsuit challenging the Values Act last month.
Some cities, like Santa Ana, have voted to file an amicus brief in support of California against Attorney General Jeff Sessions' lawsuit. Other cities, like San Gabriel, have joined the growing list of jurisdictions and school districts that have passed pro-Values Act and immigrant friendly resolutions, making it clear that immigrants are welcomed here.
While momentum is strong, we need everyone in this fight. A number of California cities have recently moved to introduce anti-Values Act resolutions and, in the case of Los Alamitos, an "opt-out" ordinance that claims to exempt the city from complying with state law.
Let us be clear – California is fully within its rights to control our local resources and limit their use in Trump's deportation dragnet. This administration's overzealous immigration agents flout constitutional rights. They tear families apart. They discriminate and they racially profile. Our state is under no obligation to do the same. We have a responsibility to make sure our communities keep families together, respect due process rights for all, and protect our neighbors.
The California Values Act protects due process for everyone in our community, including undocumented immigrants, because it sets a clear standard across the state to help protect that right. It ensures that every resident, whether they were born here or have immigrated here, feels safe at our schools, hospitals, courthouses, and libraries.
Immigrants are a vital part of our state's heart and soul. Congratulations to Porterville, Del Norte, Santa Ana, San Gabriel, and every other community taking a stand for our California values.
Maria Romani is an immigrants' rights attorney with the ACLU Foundations of California.