California Suburbs are Banishing RV Residents
Mar 16, 2021
Get out of town, or we'll bury you in debt and seize your home. That's how Pacifica's City Council is treating people who live in RVs or other large vehicles. Many RV residents in Pacifica grew up there and have moved into their vehicles to keep a roof over their heads in the place they call home. Others depend on their RVs to stay near their jobs and families. Many have disabilities that prevent them from earning adequate income to afford Pacifica rent. People's reasons and stories vary, but they all boil down to folks doing everything they can to stay afloat during a housing crisis that the pandemic has made much worse.
Pacifica's City Council doesn't appear to care.
Instead of working with RV residents to find safe parking solutions that would allow them to keep the only shelter they have, the council has opted to use its power to drive RV residents out of town or onto the streets. In 2019 they passed an ordinance banning RV parking within city limits. They held off enforcing the ban at first, as the city considered pleas from RV residents and their compassionate neighbors to provide an alternative parking solution. But in 2020, in the midst of the pandemic, the city council rejected all alternatives posed by their own taskforce to help their RV residents after housed people complained that the suggested parking sites would lower property values. So, the city began its campaign of aggressive policing, fines, and harassment, without regard to the harm it inflicted on RV residents, especially those with disabilities. 
Pacifica's ban violates state and federal law protecting people with disabilities. It is an unconstitutional, cruel, and backward attempt to shift Pacifica's housing responsibilities onto other cities. Disability Rights Advocates, Legal Aid Society of San Mateo County, and the ACLU Foundation of Northern California are suing the city. To understand why the ban is so wrong, listen to those most affected. Below are the stories of Sean, Linda, and Jared, all of whom are working together to strike down the ban.
Sean Geary
"I've been in Pacifica for 35 years, off and on. It's my favorite place in the world. I'm bipolar, so finding stability has been challenging. I had two jobs but as a result of the pandemic, and insecurity about where I'm staying, I wasn't able to focus on making money. 
"The ban has been challenging. I have done what I can to abide by the law. Even in doing diligent research on where I can and can't park, I've run into numerous problems just trying to find a place to sleep at night. I've gotten a lot of tickets that I just can't afford to pay.
"If I get towed there is no recovery. There is no recovery from that. I cannot afford to get it [my RV] out. I will lose all of my possessions. There is a very strong likelihood that it would put me permanently on the streets.
"The RV ban has prevented me from moving forward in my life. I am afraid to leave my RV and my dog to take a bus to go to the doctor because I'm afraid of getting towed. I don't feel like I can leave my RV for any length of time, and it's preventing me from getting services I really need. It's prevented me from moving forward, and it's all I can do to keep my head above water."
Image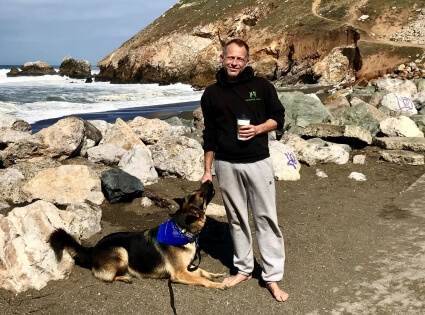 Linda Miles
"It's important for people to understand that this is temporary for me. I'm hopeful. I am trying to go back to work to save up enough money for a regular housing unit. That's my goal. But that goal is hard to reach when the place I have lived all my life is banning RVs from parking anywhere.
"People and the city are so quick to ban RVs when I've worked here longer than some of these city employees! I know a lot of people here, I was raised here. I was here before that pier went in. I love walking along the beach. My mom and dad were here all their lives. My grandma was here. My mom used to be a cocktail waitress at the bowling alley down there.
"I have grandchildren in Pacifica. How am I supposed to visit them, where am I supposed to park if I'm going to be harassed? On the regular streets, there are no signs, but they still ticket you.
"People who don't want to move away shouldn't be forced to move away. That's how I feel about it."
Image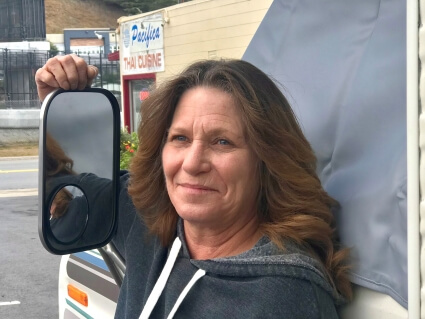 Jared Carr
"I moved into my vehicle after losing my housing when both of my parents passed away. I've lived in my RV for six years now and moved to Pacifica in January 2020 to work in construction.
"I can't afford housing in Pacifica. I have not seen any apartments in Pacifica that cost less than $1500 a month. I also don't have the money to afford parking in the RV Park in Pacifica.
"Due to the COVID-19 pandemic, my work has slowed down. I've tried to make ends meet by washing cars. I currently do not have money for a security deposit for an apartment, or to eat regularly. I've only been eating Ritz crackers and beef jerky because I can't afford better food. I don't even have the money to buy gas to leave Pacifica.
"I have been unable to park my RV in Pacifica without getting ticketed. I have received at least twenty-nine tickets for violating Pacifica's Oversized Vehicle Parking ordinance ("OSV Ordinance"). I've also received five other tickets for other parking violations in Pacifica since the City started enforcing the OSV Ordinance in September.
"If my RV got towed, I would not have the money to pay the tow and storage charges. I would likely be forced into a tent or a sleeping bag on the street. There are no shelters in Pacifica, so I would likely lose my job and be forced to leave the city. I would also lose all of my personal belongings and my pet cat. I struggle with depression and really don't know what I would do if I lost my RV. It is really painful to think about."
Image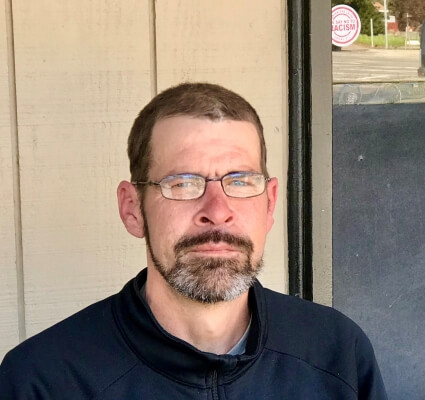 Sadly, Pacifica is not alone – cities are criminalizing the houseless up and down the state. In Northern California places like Mountain View and Santa Cruz have decided to take similar shameful routes, passing the buck on the housing crisis by trying to banish RV residents from their streets. Likewise, in Southern California, a recent report documents how the city of Lancaster has revived a brutal history of banishing the poor and unhoused into the desert.
We hope that this lawsuit will force Pacifica, and other cities like it, to reconsider how they treat their unhoused neighbors. Some possible options include providing designated parking areas and providing supportive services for individuals parking at those sites, as well as accommodations for people with disabilities.
Laws like the RV ban that criminalize poverty put society's failings on the victims and deepen racial and economic disparities and economic and health instability for people with disabilities. The housing crisis calls for compassion and collaboration. If we all come to the table committed to respecting everyone's dignity, we can find safe and sustainable solutions for RV residents and the wider community.
Grayce Zelphin is a staff attorney at the ACLU Foundation of Northern California.
Shirley Gibson is the Directing Attorney at the Legal Aid Society of San Mateo County.
Shira Tevah is a staff attorney at Disability Rights Advocates