Drones on the Radar
Feb 14, 2013
Page Media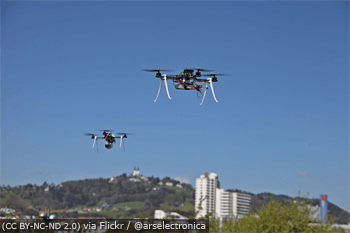 In the months since Alameda County Sheriff Gregory Ahern made known his desire to acquire and deploy a surveillance drone, the ACLU has consistently warned that such a plan carries serious privacy implications, that it is imperative the advertised benefits of a drone be weighed against the costs and that strict privacy safeguards be put into place to ensure that drones are not used for warrantless mass surveillance.
Though Ahern in recent weeks has commendably made great efforts to draft a written policy regarding any potential use of a drone, and has publicly committed not to use it for surveillance purposes, the proposed policy he released last week falls well short of what is needed, as we note in a letter we sent this week to Supervisors Scott Haggerty and Richard Valle. Indeed, his proposal would invite use of drones for the very types of surveillance and intelligence gathering that he agrees should not occur. The Public Protection Committee of the Alameda County Board of Supervisors, which will be reviewing his proposal today during a 1 p.m. meeting, has the opportunity to make sure that the county does not acquire a drone that can be used to stockpile information about Alameda County residents. The county must choose to be a leader in privacy protections, not violations.
A meaningful cost-benefit analysis is key to ensuring we don't waste taxpayer dollars on equipment that does not deliver on promised benefits or infringes more privacy than we as a society are prepared to accept. Unfortunately, there has been no such cost-benefit analysis in Alameda County. Even worse, the sheriff's proposed policy contains a dangerous loophole. He has understandably focused on beneficial emergency response uses of the drone, or unmanned aerial system (UAS) as he prefers to call it, such as search and rescue. But his proposed policy authorizes using information collected for search and rescue or other emergency response purposes to be used for other, entirely unrelated purposes and to retain that information whenever there is any suspicion of "criminal activity." Jaywalking and maliciously obstructing a sidewalk are crimes. Under the sheriff's proposed policy, a drone could be deployed for a search and rescue mission, but if it happens to record images of political protesters along the way, the sheriff could analyze and retain that data, recording information about people with dissident views.
While we are very pleased that the sheriff has committed not to use the drone for generalized surveillance, his proposed policy simply does not reflect that commitment. Until we work out meaningful, enforceable safeguards, we need the county's supervisors to protect our privacy rights by withholding authorization to purchase the drone.
Linda Lye is a Staff Attorney with the ACLU of Northern California.