Free Speech Belongs on Campus
Oct 19, 2012
Page Media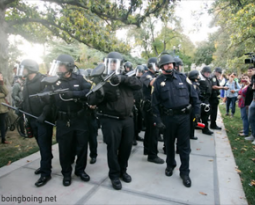 If the First Amendment means anything, it's that students should be able to demonstrate on their own campus without being afraid of police violence. The pepper spraying incident at UC Davis on November 18, 2011 was among the worst examples of police violence against student demonstrators that we've seen in a generation.
Fatima Sbeih was a senior majoring in International Studies, riding her bike home from afternoon prayer. Ian Lee was a freshman in his first semester of college. Both were UC Davis students who wanted to exercise their right to speak out for their beliefs. And both took a shot of military-grade pepper spray to the face during a peaceful demonstration on their campus last November.
A university is supposed to be a place where the free exchange of ideas is celebrated - where critical thinking and diversity of opinion are cherished as vital parts of an active, intellectually engaged community. Universities are supposed to be safe places to express opinions and become engaged in the political process. They're supposed to be safe places in general, since campus police should be there expressly to protect students from physical harm.
Instead, UC Davis sent quite the opposite message last year - to shut up and put up. The footage of the campus police pepper spraying seated demonstrators is shocking and disturbing, and it's difficult to swallow in the light of what's been going on all over the country - and the world - in the past 18 months. In 2011, Time Magazine named "The Protester" the person of the year. Spurred on by the widespread Occupy movement in the US and similar movements in other parts of the world, including demonstrations during the Arab Spring, more and more people are becoming aware of - and actively participating in political demonstrations.
So why do we, as a culture, celebrate the idea of dissent, but balk when it happens in our communities? Why did UC Davis police feel that they needed to use this type of force on students who were sitting on the ground during a non-violent demonstration?
Now, as the result of an ACLU-NC lawsuit, the University has agreed to a $1 million settlement with 21 students and recent alumni who were pepper-sprayed or wrongfully-arrested on November 18. UC Davis Chancellor Katehi will formally apologize to each of the plaintiffs. The University has also agreed to work with the ACLU on policy changes regarding demonstration on campus to ensure that nothing like that ever happens again.
At a press conference about the settlement, Fatima Sbeih said "Pepper spray is unimaginable pain. This settlement holds the University accountable."
Ian Lee told reporters: "I want the University to understand that what they did was wrong. For weeks after the incident I was afraid to speak out."
It's a clear victory, but the fact that this happened at all is a sign that universities and police departments everywhere need to sit up and pay attention: the First Amendment isn't just some foggy old principle that should be stamped out when speech becomes inconvenient. Universities should encourage their students to so actively engage with the world around them– not stifle them, and certainly not silence them forcefully.
Danielle Riendeau is the communications coordinator with the ACLU of Northern California.