Gov. Brown Releases Proposed Budget with Mixed News on Prison Spending
Jan 09, 2014
Page Media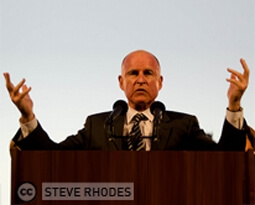 Gov. Jerry Brown on Thursday unveiled his proposed budget for 2014-2015, a budget that contains some elements that would actually move California in the direction of criminal justice reform that remains so urgently needed.
Expanding medical and elderly parole will continue to reduce the state prison population. The presumption of split sentencing will help ensure people are able to successfully transition back into the community without committing additional crimes. And requiring counties seeking state money for jail construction to prioritize reducing pre-trial populations by using risk assessment tools will increase public safety and ease jail overcrowding.
Ultimately, however, the long term solution for California's prison crisis is sentencing reform. And there was no mention of reforming overly harsh sentences for low-level, non-violent offenses in the governor's proposal. Until that happens, a lasting reduction in the number of people the state puts behind bars at great cost to taxpayers will not be achieved.
Does California's criminal justice system keep communities safe, treat people fairly and use our taxpayer dollars wisely? Take our new quiz – you might be surprised by what you find out.
It's time to shift gears on criminal justice.
Kimberly Horiuchi is a former attorney with the ACLU of California.