Honor Our Dead and Fight Like Hell for the Living
Nov 20, 2013
Page Media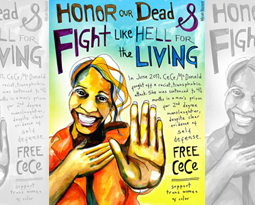 Graphic by Micah Bazant
The transgender experience in the United States has been heavily misunderstood and stigmatized. Being transgender in this country has become a radical act of self-preservation in the face of a traditionally gendered society.

This year alone 238 transgender people have been slain worldwide, often because of their gender identity. Their deaths are rarely avenged or made visible by the media. Their lives veiled by the discomfort and ignorance of their cisgender counterparts. Their identities misnamed by historians and their experiences often believed to be too difficult to explain or understand.

On this Transgender Day of Remembrance, we remember them.

Being transgender means you have a different gender identity than the one you're assigned at birth. Long has been the plight of transgender people. From work place to health care discrimination, from homelessness to economic disenfranchisement, from incarceration to humiliation, the act of simply being transgender reveals an onslaught of discriminatory practices. Unfortunately, no transgender person is safe from them, not even kids.

This year California passed a piece of legislation that aimed to rectify some of the discrimination young transgender people are facing. , signed into law by Gov. Jerry Brown in August, ensures that all students, including transgender students, have the opportunity to graduate from California's public schools, by helping them be themselves and fully participate in school facilities and activities such as sports and physical education that match their gender identity.

Unfortunately, anti-LGBT groups have taken to targeting these students and their families. In an unjust, discriminatory fight, they're driving a narrative that demonizes transgender youth and unequivocally exclaims that they're undeserving of the same experiences of other students.

Transgender students often face bullying at school and sometimes at home. Coupled with a lack of comprehensive education around transgender identity, those experiences can lead to a lifetime of difficulty with self-acceptance.
On this Transgender Day of Remembrance we honor those that we've lost and make a commitment to fight like hell for those experiencing unjust, discriminatory practices. Humanizing the experiences of transgender people is necessary to creating a healthy, positive environment for all people.

It is essential for schools – administrators, teachers and parents alike – to understand that transgender students – just like all students – must have a safe and supportive school environment where they can be themselves, fully participate and have a fair opportunity to be successful—if not for the true realization of LGB"T" rights, then in honor of the countless we remember especially today, and everyday.
Support all students to be themselves and fully participate in school facilities by signing this petition today.
Shanelle Matthews is a Communications Strategist with the ACLU of Northern California.