LGBTQ Youth Advocates Demand Fair Treatment in School
May 19, 2014
Page Media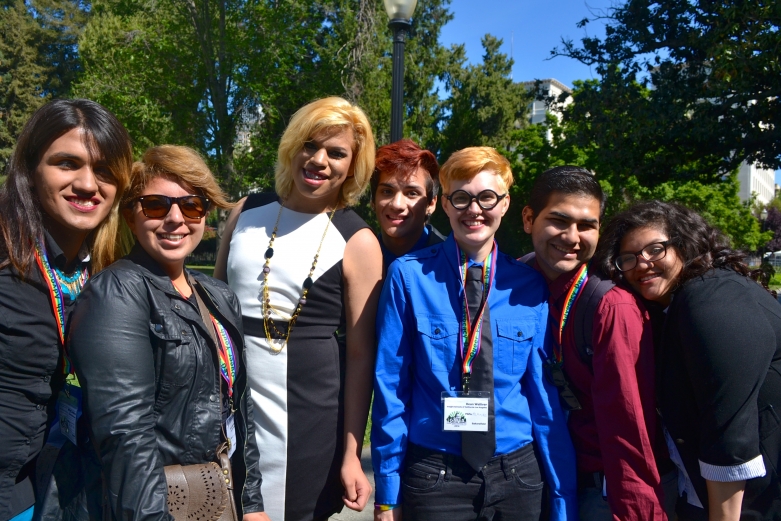 Earlier this month, over 50 LGBTQ youth activists traveled from across California to Sacramento to advocate for safe and supportive school environments for all students. The GSA Advocacy and Youth Leadership Academy, also known as GAYLA, is a three-day intensive in the legislative process, policy and administrative advocacy, media activism, and other important leadership skills.
This year the youth met with their legislators to talk about three very important pieces of legislation that impact their everyday lives: AB 420 which would limit the ambiguity of willful defiance, a controversy category teaches can use to suspend students. It would also reduce school push out and protect the rights of all students, particularly those disproportionately affected like students of color, students with disabilities and LGBTQ students. SB 1111, which would eliminate involuntary transfers so young people are not traumatically uprooted from their schools and communities. And SB 840 which improves the handling of bullying and bias-based harassment.
As they usually do, the young people brought an especially vibrant energy to the capitol chanting "We are the queer youth fighting for justice & education!" among other creative mantras. They interviewed with media, gave profound speeches about their being young, LGBT students, and relived heartbreaking experiences with discrimination and stereotyping. Their energy was palpable and for anyone within ear shot, it was desperately hard to choke back the tears.
"There is no excuse to deny LGBTQ students or any youth the same opportunities to learn as their peers, and we are asking legislators to take a stand in support of all California youth," said Pat Cordova-Goff a Gay-Straight Alliance Network youth leader.
Even in California, where great strides have been made to close gaps in equality among LGBTQ people, LGBTQ youth are at increased risk for bullying by both teachers and students, school push out, and over discipline. Implementing policies that protect LGBTQ youth, creates an environment where very young person, no matter their sexual orientation or gender identity, can do well in school, graduate and thrive.
"Our goal is the same as our peers,' we wish to graduate high school and be successful, but bullying and unreasonable school discipline policies stand in the way of our every chance," Cordova-Goff added.
GAYLA is sponsored by ACLU of California, Equality California, GSA Network, and Transgender Law Center
Shanelle Matthews is the Communications Strategist at the ACLU of Northern California.