No More Cell Phone Censorship on BART
Aug 15, 2011
Page Media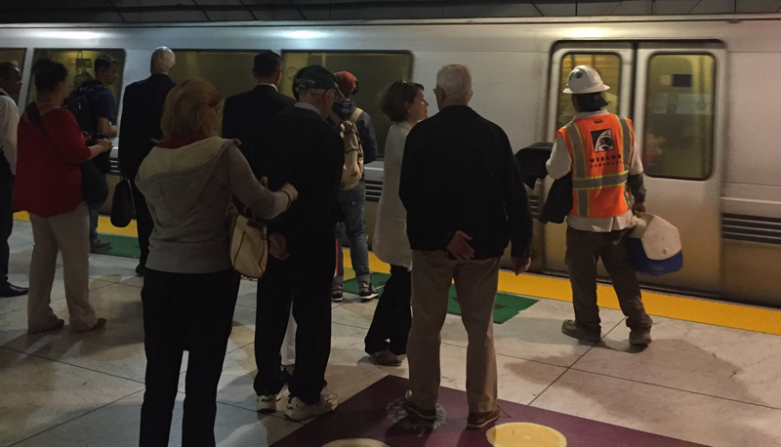 BART is the first known government agency in the United States to block cell service in order to disrupt a political protest. In this case the demonstration was to protest the recent fatal shooting of a passenger by BART police. Pulling the plug on cell phones is the wrong response to political protests, whether it's halfway around the world or right here at home.
On Thursday, August 11, BART shut down cell service in several stations in San Francisco to disrupt a planned protest. The ACLU has been closely following this story as it has unfolded. Another protest is planned for 5pm today, and news reports indicate BART has not ruled out shutting down cell service again.
The ACLU of Northern California sent a letter to BART today demanding that BART not disrupt wireless service today and that it agree not to disrupt service in the future in response to protests. A copy of the letter was also sent to the Federal Communications Commission.
Thousands of commuters use wireless service in BART stations for all kinds of expressive activity – scheduling a pick-up time with friends and family, social networking, or reading the news. All of this peaceful expressive activity is clearly protected by the First Amendment and the California Constitution. But all of it would be silenced if BART – a public, government agency – disrupts cell service.
All over the world people are using mobile devices to organize protests against repressive regimes, and we rightly criticize governments that respond by shutting down cell service, saying it's anti democratic and a violation of the right to free expression and assembly. Are we really willing to tolerate the silencing of protests here in the United States?
It's just not ok for the government to shut down everyone's mobile communications because some people might be disruptive. The idea that the government can shut down an entire communications network just because it doesn't like what people are saying on it is an insult to our constitutional protections for free speech.
Look at it this way. The government isn't required to build a park. But once it does, it can't shut the park gates to speakers it disagrees with.
BART has never disrupted wireless service before, and chose to take this unprecedented measure for the first time last week in response to a protest of BART police. BART's decision was in effect an effort by a government agency to silence its critics.
Take action: send an email to BART, telling the transit agency that silencing free speech is unacceptable.
Nicole A. Ozer is the Technology and Civil Liberties Policy Director with the ACLU of Northern California.