No Peace Without Justice
Jun 28, 2018
Page Media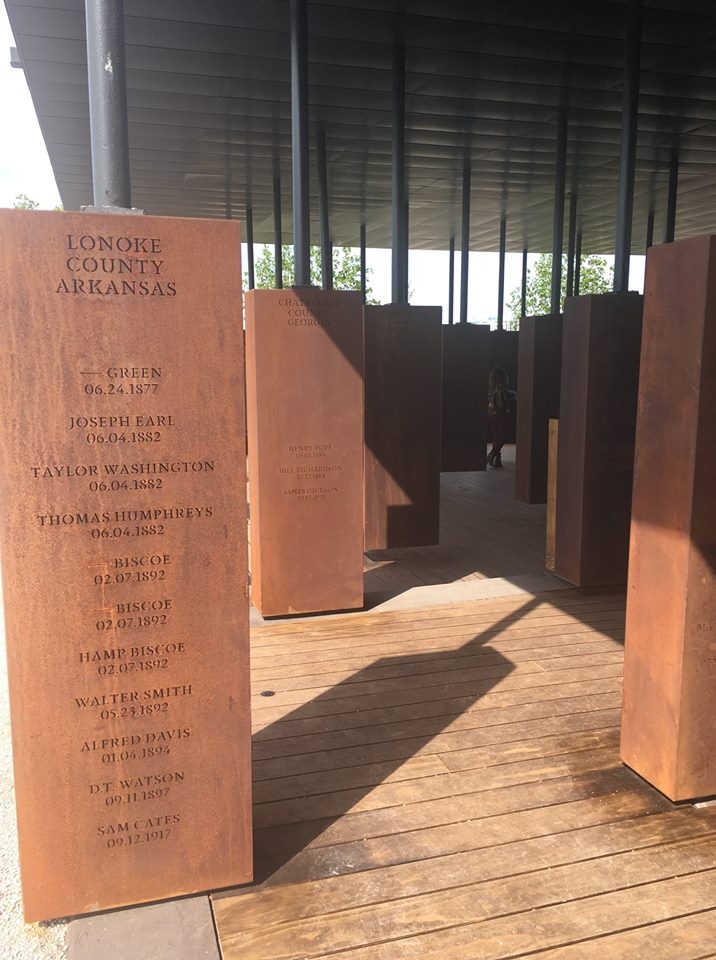 On the 150th Anniversary of the 14th Amendment, we're talking about a promise of equality that was bookended by violence. On the front end was the vicious enslavement of Black people; on the back-end was the Jim Crow era, a response that successfully and brutally reinforced racial segregation in opposition to the rights afforded Black people by the 14th Amendment. In both cases, violence was protected and condoned by the legal system in the laws as written during slavery, and in the failure to provide equal protection of the law in the face of that violence during Jim Crow.
In April 2018, I attended the opening of The National Memorial for Peace and Justice and The Legacy Museum, located in Montgomery, Alabama. Both establishments are the creation of the Equal Justice Initiative (EJI), led by Bryan Stevenson who is also the author of Just Mercy.
The dual openings were consecrated under the collective moniker "Peace and Justice" and complemented by a Peace and Justice Summit and a Concert for Peace and Justice. The list of celebrities, current and former elected officials, and other iconic notables who were in attendance is long, but the stars of this occasion were the foot soldiers of history: the activists, the revolutionaries, the enslaved, the wrongly accused, the forgotten, and the lynched. It was in their memory that The Legacy Museum, located on the site of a former warehouse that held enslaved Black people, was built to re-claim the space and tell their story and the story of the generations that have followed, some as the liberation vanguard and others as the collateral damage of institutions that fostered racial hate long past the eras of slavery, Jim Crow, and the movement for Civil Rights.
The Legacy Museum is heart breaking, heart wrenching, and devastating to witness. My first visit was so fraught with emotion that I had to return a second time to get through it without shedding tears. Beginning with a harrowing and haunting enactment of enslavement, through a variety of interactive media, print exhibits, sculpture, and videography, visitors are led through a chronological series of depictions that connect the dots between slavery and mass incarceration. It is a line so clearly drawn that its seamlessness is a punch in the gut. It's a trajectory littered with such inhumanity and evil that onlookers audibly gasp, the impact not mitigated by how much law and history one already knows.
The prudent and economic use of this museum's relatively small space conveys these difficult truths. Literally and figuratively, there is not enough room or time to sanitize the story of people of African descent in America and little evidence to deny that chains remain unbroken. Consider these facts peppered throughout the museum. Combined these are some of the factors that keep African Americans in an imbalanced state of progression and regression:
"In the 21st century, 1 in 3 Black baby boys is expected to go to jail or prison."

"A presumption of guilt and dangerousness has been assigned to African Americans."

"In 2015, police killed an average of two unarmed Black people each week."

"Although the 13th Amendment banned slavery, and the 14th Amendment followed to give all of us, including African Americans, full citizenship and equal rights, those rights are often negligently enforced when it comes to brown and black people today."

"The declaration in 1971 of a "war on drugs" led to the escalation of people incarcerated in America from 300,000 to 2.3 million today."
While the Legacy Museum steeps one in the brutality of slavery and the scourge of mass incarceration, The National Memorial for Peace and Justice focuses on lynching and takes you a step further to a visceral experience of obscene manifestations of hate. Somberly designed are over 800 huge steel monuments that bear the names of the lynched in the counties where it happened between 1877-1950. A gradual upward climb forces you to look up depicting what it must have been like to see a body hung from a tree. Some monuments have a roster of names so long, it's hard to fathom that each and every one met their fate in such a horrifying way. To contextualize the lynchings, stories of individuals are told in one to two sentence descriptions. As abhorrent as these examples are, they illustrate the sacrifice, defiance, and resistance of Black people:
Bud Spears was lynched in Lauderdale County Mississippi, in 1888 for protesting the recent lynching of another black man.

William Miller was lynched in Brighton, Alabama, in 1908 for organizing local coal miners.

Jim Eastman was lynched in Brunswick, Tennessee, in 1887 for not allowing a white man to beat him in a fight.

Grant Cole was lynched in Montgomery, Alabama in 1925 after he refused to run an errand for a white woman.

Lacy Mitchell was lynched in Thomasville, Georgia, in 1930 for testifying against a white man accused of raping a black woman.

Elizabeth Lawrence was lynched in Birmingham, Alabama in 1933 for reprimanding white children who threw rocks at her.
Although indisputable legal and social progress has been made since this defined period of lynching, it is crystal clear that the current resurgence of blatant white supremacy is evidence of a collective consciousness that has stepped out of the shadows, hoping to reverse the hands of time and reassign people of color to their racially designated and inferior "place". While the museum and memorial focus on the American south and the legacy of Black enslavement and lynching, we should know these practices were not confined to the south. Here in California there is documentation of a history of lynching and the genocide of Native people during the so-called "founding" of California.
In this current moment, week after week, we see people of color, especially Black people, being profiled as so threatening and dangerous that police are called when they are deemed to be "out of place" in spaces like a business establishment; a college campus; a department store; a park; an apartment building they are moving into; and, even as they perform their jobs as firefighters in uniform, etc.
And so, through The Legacy Museum and The National Memorial for Peace and Justice, the Equal Justice Initiative is putting the nation on notice: "…racial injustice casts a shadow across the American landscape. This shadow cannot be lifted until we shine the light of truth on the destructive violence that shaped our nation, traumatized people of color, and compromised our commitment to the rule of law and to equal justice." (Bryan Stevenson, EJI Director)
Candice Francis is the Communications Director of the ACLU of Northern California.