Now is the Time for California Families and Communities to Advocate for Strong Sanctuary Policies in K-12 Schools
Apr 06, 2018
Page Media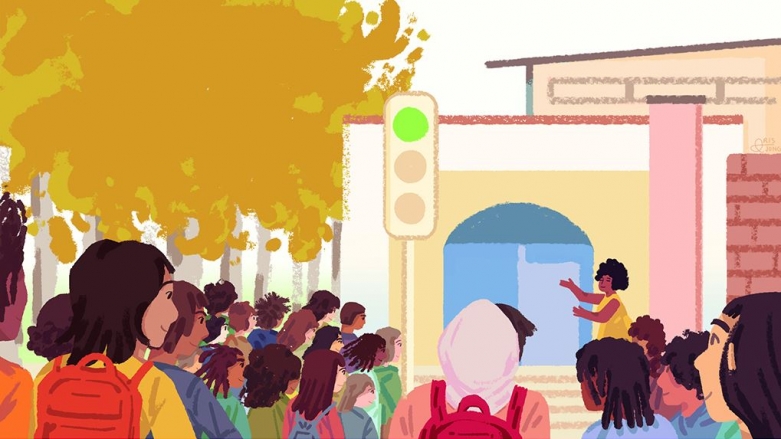 Last week, California Attorney General Xavier Becerra provided all California public school leaders with the policies they must adopt by July to protect students from immigration enforcement while at school.
In 1982, the U.S. Supreme Court declared in Plyler v. Doe that undocumented students have the right to a K-12 public education. To fulfill the promise of Plyler, we must ensure that children feel comfortable going to school and don't have to worry that they or their families will be harassed by immigration officers as they walk in and out of school or on campus.
As a result of California Assembly Bill 699, all California public schools must have policies and procedures in place so that school teachers and administrators know how to respond if an immigration officer comes to campus to interview or arrest a student or to access a student's educational records or information. AB 699 also makes clear that "immigration status" is a protected characteristic in K-12 schools. This means that students have the right to be free from any form of harassment, bullying, or discrimination in school because they are immigrants or perceived to be immigrants. This is precisely what the Attorney General's model policies will accomplish when adopted by schools.
Now is the time for students, families, and school communities to demand that their school leaders adopt all of the Attorney General's model policies by July 1. This is the law. And if schools do not adopt all of the model policies by that deadline, then students, families, and school communities should report the violation to the Bureau of Children's Justice in the California Department of Justice by emailing BCJ@doj.ca.gov, or submitting a complaint on the Bureau's website. The ACLU can also be contacted at (213) 977-9500 ext. 253 and at (213) 977-9500 ext. 353 for assistance in Spanish.
Here is how to demand that your school leaders follow the law:
Read the Attorney General's model policies by looking at pages 12-13, 20-22, 29-31, 34, and 37-38 of the Promoting a Safe and Secure Learning Environment for All: Guidance and Model Policies to Assist California's K-12 Schools in responding to Immigration Issues. The school board must adopt all of the policies listed on each of these pages, or something that looks very similar to them. School boards can't pick and choose the policies they want! They must adopt them all!
Speak at a school board meeting during public comment and take your friends and family so that they can also urge the school board to adopt all of the Attorney General's model policies.
Call, write to, or meet with your school board representative or charter school director to tell them to pass all of the Attorney General's model policies.
To learn more about how school districts pass policies, how you can get on a school board meeting agenda to speak, or other information to be a strong advocate before your school district, check out the ACLU's Parents' Guide to School Board Advocacy in California available in English and Spanish.
Don't stop there! Students need greater protections. We don't want other law enforcement agencies to do ICE's work in schools. Take a close look at the agreements between schools and law enforcement agencies to make sure that police and school resource officers (SROs) are not gathering information for ICE, or coming to campus to talk to students and potentially asking questions about their or their family's immigration status, which would violate the California Values Act. Check out the ACLU's Model Sanctuary School Board Policy for "Procedures for Identifying and Reviewing Information Sharing Agreements" (also available in Spanish) to tell your school leaders how to draft policies that include these protections.
Students also need to be protected from bullying, but police are not the answer to resolving this problem. Demand that school leaders invest in really supporting students by providing social and emotional support, like access to school psychologists and restorative justice counselors, and spaces where students can work through problems instead of calling law enforcement to deal with discipline issues. To learn more about restorative justice practices for schools to address bullying and other harms, check out RJOY's Restorative Justice Implementation Guide.
Let's demand that school leaders pass all of the model policies, limit law enforcement actions at schools, and invest in supporting the social and emotional learning needs of students. Working together, we can make these much-needed and positive changes to ensure that every California student succeeds.
Ana Nájera Mendoza is a staff attorney on the ACLU of California's Education Equity Team.