Over Two Years and $100,000 Later: Grandmother Released from Arbitrary Immigration Detention
Nov 21, 2013
Page Media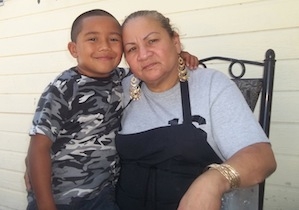 For the first time in three years, Bertha Mejia will spend the holiday season at home with her daughters and grandchildren, all of them U.S. citizens. Her grandson Pablo, who has been under her direct care since he was a baby, will finally be able to spend Christmas with the one parent figure in his life. In September 2011, Ms. Mejia's life was forever altered when Immigration and Customs Enforcement (ICE) officers knocked on her door and took her into immigration custody. The reason for her detention: a series of petty theft convictions for shoplifting food and grocery items.
While Ms. Mejia fought for the right to remain in the United States, her home for the past three decades and the country where she raised her family, the government kept her locked up. Even after a federal lawsuit filed by ACLU-NC and immigration attorney Rosy H. Cho to secure a bond hearing for Ms. Mejia, the immigration judge inexplicably denied her bond. Refusing to take no for an answer, Ms. Cho continued the fight, filing appeals and making multiple requests that ICE exercise its discretion to release Ms. Mejia.
Last Friday, Ms. Mejia received a new bond hearing, during which the government was forced to meet a higher standard of proof to justify her prolonged detention. This time, Ms. Mejia's testimony and her attorney's arguments finally persuaded the immigration judge to release her on bond.
Ms. Mejia and her family are elated that she is finally home, yet her 26 months in immigration detention were traumatic and senseless. Her health deteriorated dramatically while in detention. Immigration detention facilities are notorious for providing abysmal medical care, and Ms. Mejia's experience was no exception. By the end of her detention, her diabetes had worsened and she was barely able to climb stairs due to her arthritis and knee pain. Pablo was deprived of his primary caregiver for over two years, an eternity in the life of a young child. Despite its directive on parental interests, ICE refused to release Ms. Mejia so that she could continue caring for Pablo. And over the course of 26 months, the federal government spent over $100,000 to incarcerate this grandmother of eight with no serious or violent criminal history.
Every day, ICE is required to keep an average of 34,000 immigrants in detention. Regardless of how many or how few people actually warrant detention based on their individual circumstances, ICE fills its beds. This policy is wasteful and inhumane. As long as the so-called "bed mandate" remains in place, thousands of immigrants like Ms. Mejia will be subjected to the arbitrary detention practices and needless suffering.
Jenny Zhao is an Arthur Liman Public Interest Fellow with the ACLU of Northern California.