Phone Companies Gave Private Customer Data to Government Without Consent or Court Order
May 26, 2006
Page Media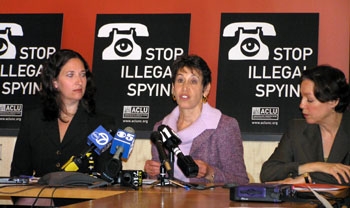 The ACLU has sued telecommunications giants AT&T and Verizon to stop them from continuing to provide the National Security Agency (NSA) with the personal phone records of millions of California customers.
Articles in USA Today and elsewhere revealed that the telephone companies have been providing the NSA with customers' private records since September 11, 2001. Records given to the NSA include phone numbers for both incoming and outgoing calls, as well as the time, date, and duration of each call.
This information was turned over without customers' knowledge or consent, and without any court order, warrant, or other proper legal process.
The ACLU is asking the court to do the following:
Enjoin AT&T and Verizon from providing any customer calling records to the NSA or any other organization without a customer's written consent or a valid court order or other form of legal authorization.

Require the telecommunications companies to disclose to each customer what files or records were shared with any third party, including the dates and recipients of the information.
Declare that the phone companies have violated the rights of Californians.
The three California ACLU affiliates (Northern California, Southern California, and San Diego & Imperial Counties) filed the May 26, 2006 suits on behalf of 17 individual plaintiffs and more than 100,000 ACLU members statewide.
Nationwide, 20 other ACLU affiliates have filed complaints with local Public Utility Commissions, state attorneys general, and other officials demanding investigations into whether local telecommunications companies allowed the NSA to spy on their customers.
AT&T has 49 million customers nationwide; Verizon has 100 million wireless and land-line customers in 28 states.
Although Verizon has denied the allegations, its denials have been equivocal. AT&T has said that it can neither confirm nor deny the charges that it has turned over telephone records to the NSA. Several members of Congress have confirmed that AT&T and MCI, which Verizon acquired in January, have provided calling records to the NSA.
Learn more:
Spy Files: ACLU Challenges NSA Wiretaps
The State of Surveillance: Government Monitoring of Political Activity in Northern and Central California
ACLU Files Suit in State Court Demanding End to Privacy Violations by AT&T and Verizon