Profiles in Courage: Visionary Black Trans Leaders Fight Racism and Transphobia
May 17, 2021
International Day Against Homophobia, Transphobia & Biphobia is a time to raise awareness about discrimination and violence against people from the LGBTQ community who are targeted for the sole reason that they choose to live their authentic lives.
Today the ACLU of Northern California salutes two of our movement partners Ms. Janetta Johnson of the TGI Justice Project and Janelle Luster of Trans Heartline. These fierce, unapologetic Black trans women have been visionary leaders in the fight against the over-policing of their community.
There is a long history of trans people of color being targeted for criminalization and incarceration and experiencing higher rates of housing insecurity and unemployment, inequities that for many have been exacerbated by the COVID-19 pandemic. Black trans women and other trans women of color have been particularly impacted by a deadly epidemic of interpersonal and state violence. Already in 2021, at least 14 trans or gender-nonconforming people have been killed, and most have been Black trans women. Black trans women deserve the right to live and thrive safely with dignity and abundance, free from discrimination, anti-Black racism, and transphobia. We are honored to collaborate with Ms. Janetta and Janelle Luster to share their wisdom and approach to addressing some of the challenges faced by their communities.
Tireless Champion for Formerly Incarcerated Trans People
Image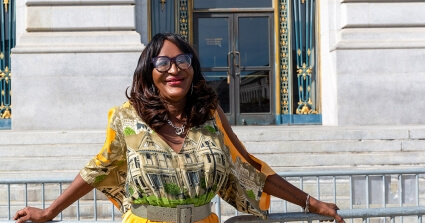 Janetta Johnson is a fierce national and international human rights advocate for the Black and Brown trans, genderqueer, and intersex communities.
She works to strengthen legal protections for Black trans people and fights for their equal access to housing, mental health, substance abuse, and employment resources. Her advocacy is centered around the needs of those who are coming out of prison.
Johnson is a warrior who has had her share of challenges.
She served a nearly four-year stint in federal prison for a drug conviction. While she was there, Johnson was struck by the number of Black trans women she met who had been incarcerated multiple times. Johnson, who is herself a Black trans woman, began questioning why people from her community were overrepresented in prisons and county jails.
She learned that, after their previous releases, a lot of the women had no place to live or a job. Shunned by family, they had no support system. Black Trans women are often targeted for arrest under anti-loitering and other discriminatory laws simply for existing.
Image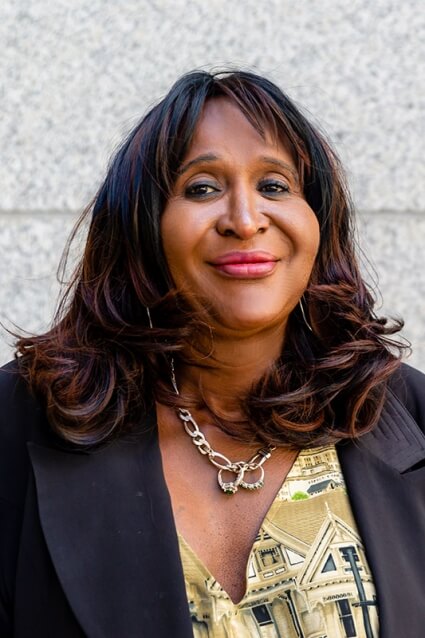 Johnson says she had a vision. "I decided, I'm going to create a program so that Black trans women don't fall through the cracks."
Today, Johnson is the executive director of the Transgender Gender Variant and Intersex Justice Project (TGIJP). The San Francisco non-profit's mission is to end human rights abuses against transgender, intersex, and gender nonbinary people, particularly incarcerated trans women of color.
That mission manifests in TGIJP's work to provide safer alternatives to sleeping on the streets. When the COVID-19 pandemic hit, the non-profit made the necessary shift towards finding more permanent housing for Black and Brown Trans women experiencing chronic houselessness.
TGIJP rented rooms for three dozen women in seven local hotels and had a volunteer deliver meals and groceries to them.
Some hotels wouldn't rent to Johnson when they learned the rooms were for unhoused Black trans women or jacked up the deposits. But she went door-to-door until she found enough rooms.
"I don't have the strongest legs or knees, but I walked those streets from 7 o'clock in the morning until 10, 11 at night to support getting people into hotels," Johnson said.
The Transgender District, (formerly Compton's Transgender Cultural District), which she co-founded to celebrate the rich history, culture, legacy, and empowerment of transgender people, covers a six-block area in San Francisco's Tenderloin neighborhood.
Image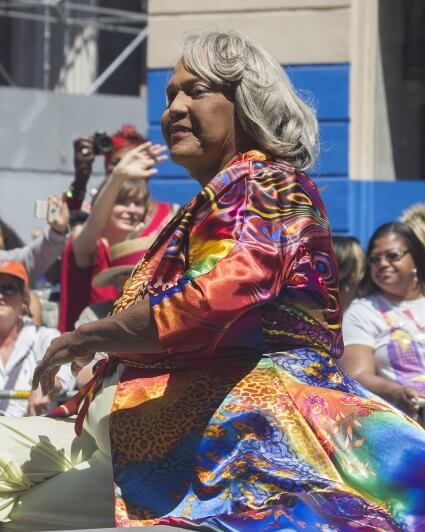 Johnson has followed in the footsteps of her mentor, Miss Major Griffin Gracy.
Miss Major, 78, is an icon of the queer rights movement and was one of the protesters at the Stonewall riots in 1969.
She founded TGIJP and mentored Johnson when she moved to San Francisco from Tampa, Fla., in 1997.
Miss Major tapped Johnson to succeed her when she retired.
"She was my transgender mother who taught me everything I know about being a political organizer," Johnson said. "She left me her legacy and it really touched me. Most Black trans women don't have that."
Once at the helm, Johnson created a new re-entry program that provides participants with a place to live, an income, and access to physical and mental health resources. It's designed to support those most impacted by the prison industrial complex.
Program participants get paid $25 an hour, more if they live in more expensive housing. The idea is for them to have a safer space where they can get acclimated to their new lives and work on personal growth without the pressure of having to worry about their basic survival needs.
"People don't understand that there are a lot of marginalized trans people," Johnson said. "I'm working with women that have been living on the street since they were 13. They need a lot of support."
TGIJP's vision is to model and pave paths for Black trans economic autonomy. The non-profit's next big project is a capital campaign to buy its own building.
"We're trying to establish Black trans ownership to create a safe place for Black trans people by us and for us," Johnson said. "A lot of people don't have a home to go to, so we are doing our best to be their surrogate home."
Learn more about TGIJP and how to support their work.
Janelle Luster Fights for Sex Work Decriminalization
Image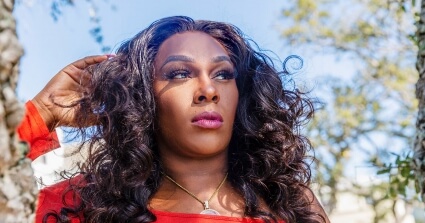 When COVID-19 hit, Janelle Luster quickly realized that sex workers were being excluded from relief funds providing pandemic aid. As a Black trans woman and a former sex worker, she was concerned for her community's well-being.
"My close community members who engage in sex work didn't qualify for aid or unemployment because of how their income comes in," said Luster, an activist and community organizer who lives in Oakland. "Sex work is work, and sex workers should get the same benefits and protections that other working people receive."
Due to widespread and intense employment discrimination, Black trans women are disproportionately represented in criminalized sex work and more likely to be targeted by police and arrested. Having a criminal record creates additional barriers to accessing public benefits, housing, and healthcare. Those who work in industries deemed legal such as dancers in strip clubs or the porn industry are banned from receiving federal stimulus funds available to independent contractors.
Since the start of the pandemic, Luster has been active in a coalition leading a statewide movement to decriminalize sex work. But after assessing the emergent needs of her community, she shifted gears: "I wanted to know what we could do to help people right now," she said. "People need money in their hands."
Luster approached the coalition with an idea: a new mutual aid fund for sex workers—a fund from the community, for the community. Before she knew it, she was leading the newly minted DecrimSexWorkCA Mutual Aid Fund.
Luster and other advocates for sex workers' rights have been working to set up the fund and identify fundraising and grant opportunities. "We want to work directly with community-based agencies that have sex workers in leadership and have shown a demonstrated commitment to serving trans and gender non-conforming sex workers and sex workers of color," Luster said. The fund will launch later this year.
Image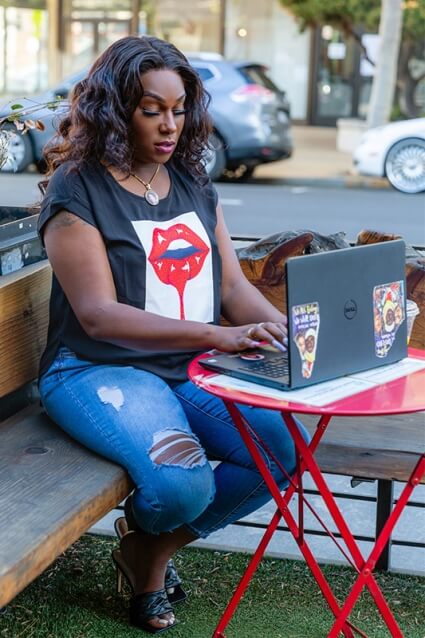 Luster credits her own experiences for inspiring her to advocate for a more equitable world for people who earn their living through sex work. "Unlike many jobs, as a Black trans woman, sex work was accessible to me," Luster said. "It was hard for me to get other jobs because of the many ways homophobia, transphobia, and anti-Blackness show up in our society."
Luster is also a champion for protections for Black transgender women who are targeted for criminal prosecution for discriminatory reasons. Her work on the DecrimSexWorkCA Coalition includes efforts to repeal California's harmful loitering laws, which give law enforcement officers an excuse to profile and harass Black and trans people who they suspect of being sex workers.
Last month, Sen. Scott Wiener introduced SB 357, a bill that would repeal sections of a state law that make it a crime to loiter with the intent of engaging in sex work. ACLU California Action is proud to partner with the strong coalition of current and former sex workers as a cosponsor of the bill.
"Many of my Black trans community members engage in sex work, and I know that the majority of them have experienced these harms," Luster said. "What motivates me is the possibility that we can create a world that is safer and more liberating for sex workers. It's about community taking care of community."
Tammerlin Drummond is a communications strategist at the ACLU of Northern California where she uses strategic communications and people-centered storytelling to help further the ACLU's critical mission defending civil liberties. 
Carmen King is an associate communications strategist at the ACLU of Northern California where she works to advance the civil rights and civil liberties work of the organization.

All photos by Oakland-based photographer Bethanie Hines.