Public Remains in the Dark about Planned Oakland Surveillance Center
Jan 28, 2014
Page Media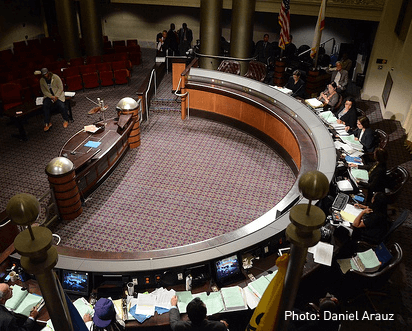 The American Civil Liberties Union of Northern California today sent a letter to members of an Oakland City Council committee demanding there be more transparency and oversight over the city's ongoing plans to build a domain awareness center (DAC) – essentially a central surveillance hub for law enforcement.
The letter was sent hours before the city's Public Safety Committee tonight will decide whether to enter into negotiations with a contractor to build phase two of the DAC project.
But because the public continues to be left in the dark about vital privacy and public policy concerns associated with the project, the ACLU's letter demands the city council exert greater levels of oversight over the DAC before allowing more work on it to go forward.
As the ACLU's letter states, it remains unclear what the real purpose, cost and technological capabilities of the DAC are. Is the DAC intended to merely bolster security at the Oakland Port by allowing first responders access to the port's surveillance systems? Or will its reach be more expansive and invasive than that? Will it be used to carry out more comprehensive surveillance of all Oakland residents? Why has staff of the port and the Office of Emergency Services refused to make publicly available documents that should outline the DAC's full purpose? Good answers to these key civil liberties questions remain elusive.
Additionally, city staff is refusing to release key portions of the request for proposal being sent out to potential contractors –documents that likely outline the DAC's intended capabilities and which would help make clear the DAC's functions that will require regulation. If the city council is not fully versed on what the DAC will be capable of doing, how can it possibly provide meaningful oversight?
It is imperative that the Oakland City Council not cede any of its oversight of the planned domain awareness center – our individual rights to privacy are depending on it.
Will Matthews is the senior communications officer at the ACLU of Northern California.