Remembering Kathryn Korematsu
Dec 06, 2013
Page Media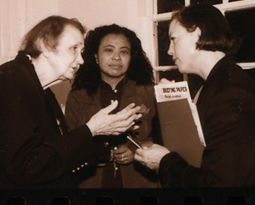 In Memory
Kathryn Korematsu
1921-2013
The ACLU of Northern California (ACLU-NC) mourns the death of Kathryn Korematsu, a teacher, organizer, and tenacious advocate for civil liberties. We came to know Kathryn as the unwavering supporter of her husband, Fred Korematsu, who was represented by the ACLU-NC in his challenge to the World War II internment of Japanese Americans.
Although Fred Korematsu lost his case in the U.S. Supreme Court during the height of the war, in 1983 his conviction (for refusing to report to the wartime camps) was overturned by a team of young lawyers. One of those attorneys, former ACLU-NC board member Lorraine Bannai, now a law professor at Seattle University, offered this remembrance:
"It's extraordinary now to think back on how wholeheartedly Fred and Kathryn trusted us with something that meant so much to them – clearing Fred's name by challenging the orders that lead to the wrongful incarceration of Japanese Americans. But trust us they did.
"During our work on the case, we were extraordinarily honored to come to know Fred. Although a civil liberties icon to all of us who had studied his case during law school, he was as down-to-earth a person as you could find.
"But little did we know at the time what an extraordinary gift we would receive in getting to know Kathryn.
"Kathryn was herself a force of nature, possessed of her own strong sense of right and wrong and commitment to justice," Bannai wrote.
Born in South Carolina, Kathryn first met young Japanese Americans in Detroit in 1943; they were Nisei who had moved there from the camps. She remembers being shocked to learn that they had been confined behind barbed wire, just because of the color of their skin.
She stood beside Fred during the lawsuit to overturn his conviction. After that victory, they continued their fight for justice, walking the halls of Congress seeking redress for those who had been interned, and speaking at public events denouncing civil liberties violations in the wake of 9/11.
After Fred's death in 2005, Kathryn continued to come to ACLU-NC Bill of Rights Day Celebrations and other events, often accompanied by her daughter, Karen Korematsu-Haigh, executive director of the Fred Korematsu Institute for Civil Rights and Education. She is also survived by her son, filmmaker Ken Korematsu.
Elaine Elinson is a former Communications Director of the ACLU of Northern California.