Running for Elected Prosecutor Will Never Be the Same
Jun 06, 2018
Page Media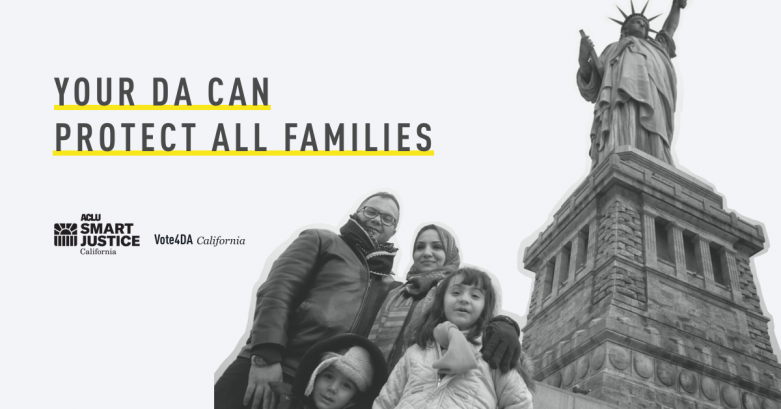 On June 5th, California voters paid more attention to their local top prosecutor races than ever before.
In elections where the incumbent has historically gone unchallenged, there were more contested DA races in California than in recent memory – perhaps ever before. Although incumbents retained their seats in most counties, all elected DAs in California now know they are under a level of public scrutiny that they have never been before.
Here's what California voters helped change on June 5th:
We pressured DA candidates to go public with their positions on key criminal justice reform issues. In previous elections, far too little information was available for voters about DA candidates' priorities. Though the Association of Deputy District Attorneys urged candidates not to respond to our #Vote4DA candidate questionnaire, 26 candidates did. We helped build public pressure to make silence a politically dangerous option for many DAs. Just a few weeks before the elections, when she could no longer ignore the calls from her constituents, for example, Alameda County incumbent DA Nancy O'Malley went on the record with her positions on mass incarceration, bail reform, and more.
We showed up at DA candidate forums across California to demand their answers on the issues facing our communities. In past elections, DA candidates ran largely unopposed—and when they did face challengers, there was very little public debate or attention paid to either candidate. This year, nearly half of all DA incumbents faced challengers. And hundreds of Californians showed up at more than a dozen forums across the state to ask their DA candidates tough questions and demand answers.
We helped change the narrative around criminal justice in the mainstream news cycle. As DA candidates found themselves in the spotlight, they were forced to defend or distance themselves from the out-of-touch "tough on crime" positions so many DAs have clung to. Debates between San Diego, Sacramento, Alameda, and Contra Costa DA candidates sparked an unprecedented amount of media coverage from the state's major news outlets, including LA Times, San Francisco Chronicle, The Sacramento Bee, and more.
With the elections over in most counties, some DAs might hope that the noise will die down and they can go back to pursuing their own agenda behind closed doors. But those days are behind us. Now that we know where our DAs stand, it's our job to hold them accountable – no matter who they are. The ACLU does not endorse or oppose candidates for political office. Accountability must apply to all.
For those candidates who espoused a reform-minded agenda, we will remind them of their promises and demand they take the actions they committed to. For candidates who chose to remain silent or who still are woefully far from representing the will of their constituents, we will continue our work to bring them out of the shadows and shine a spotlight on their decisions.
Want to see where your new DA stands? Visit vote4da.org to see their position on key criminal justice issues. To see your county election results, visit: Alameda, Alpine, Imperial, Modoc, Riverside, Sacramento, San Bernardino, San Diego, Tehama, and Yolo.
Are you from Stanislaus, Orange, Contra Costa or Marin County? You still have the opportunity to influence your district attorney candidates in the lead-up to the runoff elections this November. From Los Angeles or San Francisco? Your DA election takes place in 2020 but campaign season will be underway soon.
Over the coming months and weeks, we'll be rolling out a plan to ensure that all our elected DAs are doing the job we elected them to do—to ensure justice and safety for all people. Make sure you're subscribed to meetyourda.org to find out what's next for your DA.