Shut Up and Listen: Race and Justice in Schools
Dec 22, 2014
Page Media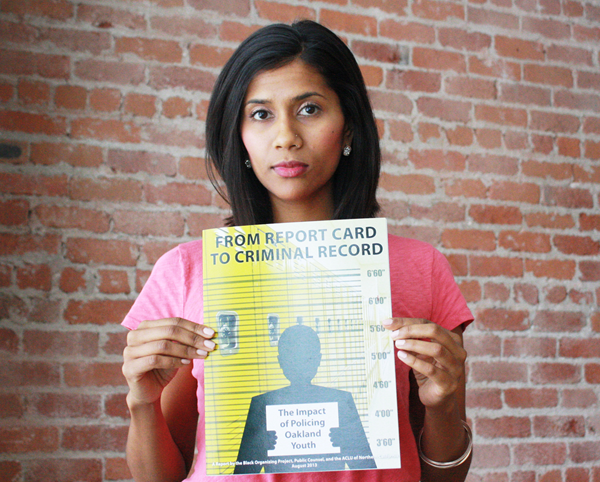 Amidst the anger, protests, tweets, reflections, and cries for racial justice, it took sitting at the Black Organizing Project's five-year anniversary dinner to remind me that in a moment like this the best thing to do is shut up and listen.
BOP is a Black, member-led Oakland community organization working towards racial justice for low-income Black people through grassroots organizing and community building. The "BOP Monologues" were the highlight of the night: five powerful spoken word performances by BOP members describing their experiences around race, cops, and school.
Fifteen-year-old Reginae Hightower poignantly questioned "are the children well?" and then responded with anger. Anger for the deaths of Oakland youth Raheim Brown and Oscar Grant at the hands of police officers. Anger towards the money spent putting police officers in her Oakland school. She wants a school with "folks who really care, understand, and look like us. Who reflect us, and dare I say love us too." She demands counselors, not cops.
According to From Report Card to Criminal Record: The Impact of Policing Oakland Youth, in 2013 the City of Oakland and Oakland Unified School District (OUSD) provided funding for six times more police officers and school security guards in Oakland schools than school counselors. This means Oakland students don't have help working through conflicts or proactively learning how to improve behavior. Instead, problems traditionally dealt with by counselors and other school officials end up in the hands of law enforcement. This results in harsh discipline practices like arrests and referrals into the criminal justice system for ordinary day-to-day disciplinary infractions.
Bryana Jones reflected on the trauma of her in-school arrest by Oakland police officers. She described the humiliation she felt as her eighth grade classmates watched officers place her in handcuffs and throw her into a police car. She expressed frustration for a lack of safe space to resolve a typical in-school conflict. She wondered why instead of having someone to help her understand her misbehavior all she had was "the right to remain silent."
The U.S. Department of Justice makes it easy for OUSD to fund school police officers through its COPS in Schools (CIS) grant program, which offers school districts like OUSD federal funding to hire local police officers to work in elementary and high schools. The federal government does not have a comparable program to fund school counselors or psychologists who can help students address the traumas behind misbehavior or understand the consequences of their actions.
Bryana also rightfully questioned whether her arrest was "because I'm a Black girl from Oakland." Harsh discipline policies imposed by police officers disproportionately impact Black students. Between 2011 and 2013, Black students represented only 30 percent of the OUSD student population, but an overwhelming 73 percent of arrests made by school police officers.
Other punitive discipline practices also disproportionately impact Black students. Unlocking Opportunity for African American Girls: A Call to Action for Educational Equity confirms that Black girls in particular are disproportionately suspended and expelled. According to the latest Civil Rights Data Collection (CRDC), during the 2011-2012 school year, African American female preK-12 students received an out-of-school suspension at six times the rate of white girls.
The deaths of Mike Brown, Eric Garner, Raheim Brown, and Oscar Grant underscore the racist practices that permeate our country's administration of law enforcement and justice. Placing law enforcement officers in our schools allows these same practices to infiltrate the space where we teach children—a space that should be safe from the racism and biases of the outside world.
I listened to Reginae and Bryana as the ACLU of Northern California's "Racial Justice Fellow"—a title that implies I am an aspiring expert on race and justice. But their words reminded me of my distance from the problems I work to fight. A growing professional background in racial justice and being a woman of color myself are not qualifying credentials. 
The real experts are those who understand the complexities of racial bias and institutional discrimination because they experience it every day in their communities. They live the struggles I fight against. Their voices must be the guide in the fight for racial justice for young people going forward. As Bryana said:
"We are the ones to get the job done"
"You have to respect your voice, and keep it in tune so your instrument can change lives"
"Every time we're raising our voices we're doing it for those who are not with us today"
"Your voice is your most powerful instrument"
"To the young ones like me out there let me tell you something about the power of our voices."
"I have the right to remain silent no more"
"We are fighting for us, to keep the love we have for each other, to find a solution."
Nayna Gupta is a Racial Justice Fellow with the ACLU of Northern California.